Fairytale Castle Becomes Cultural Space (Neufra near Ulm)
Topic:
12: Art, culture and local history
Work Types:
Art / Cultural heritage / Restoration, renovation
Number of places still available:
3
Free places last update:
Dec 06, 2022
International age:
18 - 26
Required Language:
English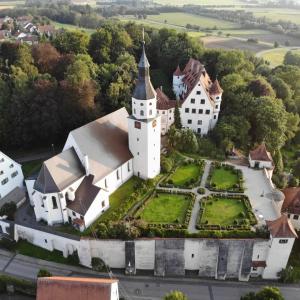 Description: Help with garden- and renovation- work so that the beautiful fairytale castle and the historic vaulted cellar can be used for cultural events. Last year, volunteers cleared many cellars of rubble and brought many hidden treasure like antique tools, lanterns and benches to the light of day, but much remains to be done. The castle garden is laid out in Renaissance style and is often used for weddings, dance evenings and yoga workshops. You can help revitalize it and make it blossom once again.
Type of Work: Removing centuries-old rubble from the historic vaulted cellar, maintenance work in the garden, planning a flea market.
Study Theme: Learn more about the history of the hanging garden, monument conservation, and architecture.
Accommodation: On camp beds, toilet and outdoor shower. You will cook together. If the weather is nice, you can eat together outside and enjoy the beautiful view. Otherwise, you can stay in the cozy tower room.
Language: English
Requirements: Outside, the temperature can reach 30°C, but in the vaulted cellar, it is always 9°C. So bring work clothes and gloves for the garden and vaulted cellar. You can also bring your musical instruments for cosy evenings. In your free time you can go on excursions to Riedlingen, Ulm or the nearby Lake Constance. So feel free to bring your bathing suit.
Approximate Location: Near Ulm.
Notes: Covid19: We organise our workcamps according to the regulations at the time of the workcamp. We will inform you about this in the Infosheet and by email. Please mind the vaccination and testing regulations for entering Germany: https://t1p.de/at82o
Please kindly note that there is an additional incoming fee of 50 € for all volunteers applying through Partner organisations or Contacts of the SCI network. This will cover international insurance costs of the volunteer and administration costs of SCI International. For volunteers coming from countries with SCI Branches and Groups there is no additional incoming fee. You can check the status of your local sending organisation here: https://rb.gy/fveuew. If this fee exceeds your financial ability, please make a comment in your application.
Organization Description: This workcamp is organized by the German branch of Service Civil International (SCI). SCI Germany was founded in 1946 and is approved as a non-profit organisation. We are one of the oldest peace and volunteer organisations. SCI Germany aims to promote peace, non-violence, international solidarity, social justice, sustainable development and cross-cultural exchange through international voluntary work. We cooperate with a network of branches and partners in more than 90 countries. Every year, SCI Germany organizes about 50 international workcamps in Germany.

---
Camp Photographs