Live Big in a Tiny House (Schluchsee near Freiburg)
Topic:
12: Art, culture and local history
Work Types:
Construction / Manual / Study, discussion, research
Number of places still available:
1
Free places last update:
Jun 30, 2022
International age:
18 - 26
Required Language:
English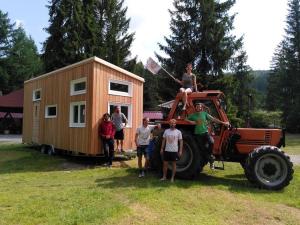 Description: Build a Tiny House together with other volunteers and learn more about minimalistic lifestyles. This workcamp takes place directly at the Schluchsee surrounded by the beautiful landscape of the Black Forest. At the end of the camp, the participants should have acquired enough skills to be able to build their own Tiny House. For this purpose, the individual construction steps are explained and discussed, and the participants can practice them right away during the workcamp. In their free time, participants can go swimming or canoeing in the nearby Schluchsee. Hiking is also an option since plenty of hiking trails lead directly past the Naturcamp. Participants can use all public transport In the surrounding region for free thanks to the Conus card.
Type of Work: With the help of experts, the house walls are manufactured and erected, windows and doors are installed and the roof structure is mounted. The wooden post-and-beam walls are insulated and clad with wood on the inside and outside. Inside, a gallery and a partition wall for the small planned bathroom are being built. Electricity and water supply as well as the installation of a wood heating system are also part of the work camp.
Study Theme: Discussion and research on the Tiny House movement, minimalism, sustainability, alternative lifestyles, etc..
Accommodation: You will sleep in your own tent at the nature camp. The beautiful area is very spacious, has sufficient sanitary facilities, shelters and cosy fireplaces for the evenings. You will cook together.
Language: English
Requirements: Interest in manual work as well as motivation and willingness to do physical work. Previous craft knowledge is desirable but not a pre-condition.
Covid19: We organise our workcamps according to the regulations at the time of the workcamp. We will inform you about this in the Infosheet and by email. Please mind the vaccination and testing regulations for entering Germany: https://t1p.de/at82o
Approximate Location: Schluchsee, Aha, near Freiburg
Notes: Please bring work shoes and robust work clothes! The work assignments can exceed 5-6 hours on individual days, for which there is compensatory time off.
Please kindly note that there is an additional incoming fee of 50 € for all volunteers applying through Partner organisations or Contacts of the SCI network. This will cover international insurance costs of the volunteer and administration costs of SCI International. For volunteers coming from countries with SCI Branches and Groups there is no additional incoming fee. You can check the status of your local sending organisation here: https://rb.gy/fveuew. If this fee exceeds your financial ability, please make a comment in your application.
Organization Description: This workcamp is organized by the German branch of Service Civil International (SCI). SCI Germany was founded in 1946 and is approved as a non-profit organisation. We are one of the oldest peace and volunteer organisations. SCI Germany aims to promote peace, non-violence, international solidarity, social justice, sustainable development and cross-cultural exchange through international voluntary work. We cooperate with a network of branches and partners in more than 90 countries. Every year, SCI Germany organizes about 50 international workcamps in Germany.

---
Camp Photographs