SEEDS 019. Forestry & tree planting in the North
Topic:
10: Environment protection
Work Types:
Construction / Environment / Manual
Number of places still available:
1
Free places last update:
May 27, 2022
International age:
18 - 99
Extra fee to be paid in the hosting country:
200.00 Euro [204 US Dollar]
Breakdown:
Accommodation and food: 0.00 Euro
Transportation: 0.00 Euro
Activities: 0.00 Euro
Hosting organisation support: 200 Euro
Purpose of extra costs:
Participation / Extra fees support the ongoing work of SEEDS and our activities. For this particular case the entire fee might not necessarily go towards your camp. The fees of your camp are mainly used for: - Support for the ongoing work of SEEDS and our activities, such as co-funding for our long-term volunteers and project coordinators and administrative costs of the association.
Required Language:
English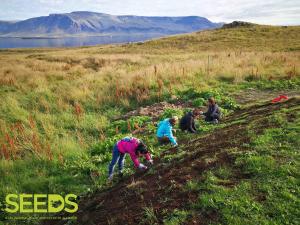 Description: SEEDS volunteers will be working on a forestry and farming project at a local farm in the beautiful Svarfaðardalur valley in the north of Iceland, doing nature and environment-oriented tasks. The farm is a family cooperation that started a year ago. The aim is to create a holistic organic farming with vegetables and in the future also with animals.
The forestry project starting in the summer of 2022 is very important for biodiversity and wind-shelter. The main tasks will include tree-planting, putting up fences for tree protection and doing other outdoor tasks that will be needed around the building of infrastructure in the farm.
No previous experience is necessary, but the work is demanding and requires a good physical condition.
Type of Work: As it is outdoors work, volunteers shall be ready to adapt and be flexible with the working and free-time schedule, as depending on the weather, we may not be able to perform some of the tasks or activities planned.
This is an exciting opportunity for volunteers with passion, interest and stamina to be a part of the development of this unique farm and to get to know the ideology behind it.
Weather is unpredictable, there can be warm and sunny days but it can also be cold and/or rainy, so be prepared for all kinds of weather. We recommend bringing good walking shoes/boots, warm and/or waterproof clothes (underlayers, overcoats, scarves, gloves and hats), as most of the tasks and activities take place outside.
Study Theme: Svarfaðardalur is a wide, fertile and populated valley, dotted with quintessential farmsteads, gurgling streams and surrounded by a ring of spectacular mountain peaks. The highest mountain in the area is Dýjafjallshnjúkur, its summit measuring 1445m. The Svarfaðardalur Nature Reserve, Iceland's oldest wetland protection area, spans out across the valley's lower marshlands. Covering almost 8 square kilometers, this area is famous as a nesting ground for a wide variety of bird species.
Accommodation: SEEDS volunteers will sleep in beds in a house at the farm. Please bring your own sleeping bag. The host will arrange all meals and the volunteers will take shifts assisting in the kitchen. It is important that volunteers keep in mind to keep all common areas clean.
The facilities are basic with a kitchen, showers and a washing machine. Everyone is expected to show consideration for their companions in the shared accommodation.
Language: English will be the language in the camp; basic conversational skills are needed.
Requirements: Participation fee EUR 200 (Euros). The fee can either be transferred in advance via bank transfer, or paid in cash on arrival. The participation fee does not include the transportation from Reykjavík to the camp and back, which will cost EUR 55 (Euros) one way or EUR 110 (Euros) both ways.
Approximate Location: The farm is located in Svarfaðardalur, a large and beautiful valley that is part of the Dalvíkurbyggð municipality. The camp location is 3 km away from the village of Dalvík , which has a nice swimming pool and a different variety of services, and 40 km to the town of Akureyri the "capital of northern Iceland".
Notes: This camp takes place in a remote place, located in a natural area of extreme beauty. SEEDS volunteers can also explore the surroundings of the location and enjoy free-time outdoor activities (like hikes or walks) arranged in cooperation with our local project host.
The project takes place outside and it can be cold and/or rainy. We recommend bringing warm and waterproof clothes (underlayers, overcoats, scarves, gloves and hats), good working and walking shoes.
Do not forget to bring some traditional/typical food, drinks, recipes, music, games or movies from your country for the intercultural evening. Please be aware some items or ingredients may be expensive in Iceland and you will need to buy them yourselves or bring them from your country.
Organization Description: SEEDS is an Icelandic non-governmental, non-profit volunteer organisation designed to promote intercultural understanding, environmental protection and awareness through work on environmental, social and cultural projects within Iceland. SEEDS works closely with local communities, local authorities and other Icelandic associations both to develop projects in partnership, aimed at fulfilling an identified need, and to give assistance to established initiatives. Projects are designed to be mutually beneficial to all involved: the volunteers, the local hosting communities and Iceland as a whole. Every year host more than 1200 international volunteers from 50 to 60 different countries.