Never forget! (Dachau near Munich)
Topic:
1: Antiracism, antifascism, remembrance
Options:
Wheelchair Accessible
Work Types:
Peace / Study, discussion, research
Number of places still available:
3
Free places last update:
Dec 06, 2022
International age:
18 - 26
Extra fee to be paid in the hosting country:
200.00 Euro [215 US Dollar]
Breakdown:
Accommodation and food: 0.00 Euro
Transportation: 0.00 Euro
Activities: 0.00 Euro
Hosting organisation support: 200 Euro
Purpose of extra costs:
The volunteers have to pay a self-financing amount of € 200.00 to the project partner on site. A letter of motivation must also be submitted at the time of registration. If a group participates, all persons must still register individually. Maximum age 26 years.
Required Language:
English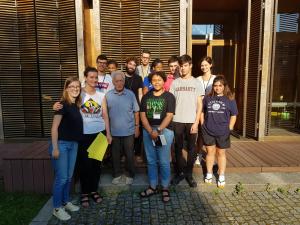 Description: Since 1983, an international youth encounter with over 100 young people from 20 countries has taken place in Dachau every summer. As part of this encounter, the SCI volunteers take part in various workshops with questions on the history and contemporary relevance of National Socialism as well as in discussions with survivors. The focus is on the study part. More information about the camp can be found here: http://www.jugendbegegnung-dachau.de/. Dachau Concentration Camp was built on the site of a former munitions factory as a Nazi concentration camp. More than 200,000 prisoners were registered during the camp's twelve-year existence. Countless died from terror and the consequences of inhumane forced labour, illness and exhaustion.
Type of Work: In contrast to other workcamps, in this camp the main emphasis will be put on the studies. The volunteers will learn about the history of National Socialism through communication with survivors and through active participation in workshops. Current political situations will also be discussed.
Study Theme: National Socialism and the concentration camp in Dachau; workshops within the framework of the IYM; tours of the memorial site; excursions, lectures.
Accommodation: Youth Guest House Dachau (4-bed-rooms); suitable for wheelchairs.
Language: Englisch
Requirements: Interest in the topic, sufficient knowledge of English and / or German for everyday understanding.
Notes: Please kindly note that there is an additional incoming fee of 50 € for all volunteers applying through Partner organisations or Contacts of the SCI network. For volunteers coming from countries with SCI Branches and Groups there is no additional incoming fee. You can check the status of your local sending organisation here: https://sci.ngo/about-us/our-movement/where-we-are/. If this incoming fee exceeds your financial ability, please make a comment in your application.
Covid19: We organise our workcamps according to the regulations at the time of the workcamp. We will inform you about this in the Infosheet and by email. Please mind the vaccination and testing regulations for entering Germany: https://t1p.de/at82o
Organization Description: This workcamp is organized by the German branch of Service Civil International (SCI). SCI Germany was founded in 1946 and is approved as a non-profit organisation. We are one of the oldest peace and volunteer organisations. SCI Germany aims to promote peace, non-violence, international solidarity, social justice, sustainable development and cross-cultural exchange through international voluntary work. We cooperate with a network of branches and partners in more than 90 countries. Every year, SCI Germany organizes about 50 international workcamps in Germany.

---
Camp Photographs