Topic:
12: Art, culture and local history
Work Types:
Art / Festival / Manual
Free places for Females:
3
Free places last update:
Jul 11, 2022
International age:
18 - 30
Required Language:
English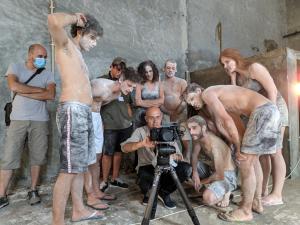 Description: Volunteers in this work camp are involved in various levels of the organization, providing a determinant support for the success of this International Meeting. Being AVANCA an idea sharing favored space, creative fusion and cultural interchange between, professionals, students and cinema and multimedia lovers, IWC volunteers will naturally participate and dive in this international, culture and creative atmosphere.
To moments dedicated to cultural animation and discovering of surroundings, Cine-Clube de Avanca offers a set of activities, which will give an insight of the social realities, cultural and gastronomical, between others, from the village of Avanca and the region that extends between the cities of Aveiro and Porto.
Type of Work: During preparation and setting phase - Signposting setting for the different spaces in AVANCA 2022; Poster and pending poster distribution; Exposition setting and Organization; Adaptation of the Egas Moniz school classrooms for workshops attainment; Workshop related Video-Informatics equipment installation and testing; Cleaning and preparation of the Auditorium of Avanca for competitive sessions of Cinema and Video; Organization of the Egas Moniz School's polyvalent; Airport reception and welcoming of the AVANCA 2022 international guests; Cleaning and maintenance of spaces and sanitary installations. During the Festival: - Check-in support for the AVANCA 2022 participants and guests; Maintenance of the Workshop rooms; Cantina support; Support during competitive sessions; Cleaning. etc
Study Theme: Volunteers are active participants and play a crucial role in the development of the festival, supporting the organization at all levels and will directly support the organization of the festival and all that that entails. The festival is a privileged space for communication, creative fusion and cultural exchange between professionals, students and film lovers. Thus, it is intended to provide them with opportunities for personal and cultural development, as well as the acquisition of new knowledge in the field of Cinema and Audiovisuals, through their involvement, at different times.
Accommodation: Volunteers will be accommodated in the school's classrooms. They will have access to mattresses. The school has bathrooms and changing rooms with hot water, open 24 hours/day. Regarding food, breakfast will be prepared in the school canteen, where volunteers will have at their disposal the most varied items for its preparation. For lunch and dinner, volunteers will go to local restaurants along with their monitors. During the festival, lunch is provided by the school canteen.
Requirements: Smoking is not allowed inside the rooms. The camp will be watched nightly by a professional security
Approximate Location: Avanca is a Portuguese parish in the municipality of Estarreja, with an area of 21.07 km² and 6 189 inhabitants. Avanca belongs to the municipality of Estarreja, District of Aveiro. It is limited by the municipalities of Murtosa, Ovar and Oliveira de Azeméis. It is served by Estrada Nacional 109, by A29, as well as by the North railway line.