Topic:
10: Environment protection
Work Types:
Environment / Manual / Work with animals
Free places for Females:
0
Free places last update:
Jul 27, 2022
International age:
18 - 30
Required Language:
English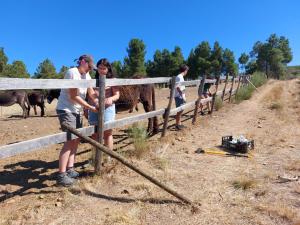 Description: The main goals of this workcamp are recovery of rural heritage, enhance the biodiversity of our Centers, and promote the animal welfare of donkeys and their quality of life. We want to o enable the discovery of the Miranda Plateau, a unique rural region, rich in natural beauty, biodiversity, culture and traditions. With so aging population in this villages, one of the gols its bringing together the young participants and the local community, therefore promoting intercultural (urban/rural, international/national) and intergenerational (youngsters/the elderly) encounters and exchanges.
Type of Work: • Support autochthonous biodiversity • Promote the animal welfare of donkeys • Dry stone wall rebuilding • Cleaning waste from Angueira river and fields, area that belongs to Natura 2000 network • Building and placing nestboxes for birds and bats • Activities to support local community
Study Theme: Our work team is multidisciplinary, so this workcamp it's an opportunity to learn ancient techniques of dry stone wall rebuilding shared by local people, basic care of donkey maintenance with veterinarians, more about biodiversity with biologists.
Accommodation: Basic housing with electricity – with three large rooms equipped with bunk beds, one living room, WC with showers with hot water. there is a bar in the village that we will help to boost during the work camp. where we can Volunteers who want extra privacy can bring camping tents. There's no wifi and it's common to have network problems in some areas.
Approximate Location: The accommodation is located in Serapicos village, geographically included in the Natura 2000 network and Special Protected Area (SPA), about 9 kms from Vimioso city and 4km from S. Joanico where we will dedicate part of our working time. Located in a rural area in the northeast of Portugal, very close to the border with spain,
---
Camp Photographs