Stage on the street: all included!
Topic:
9: People with disabilities
Work Types:
Art / Work with people with disabilities / Manual
Free places for Females:
0
Free places last update:
May 26, 2022
International age:
18 - 30
Required Language:
English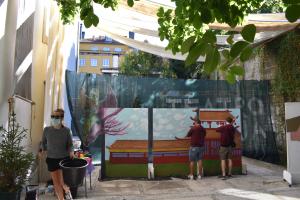 Description: - To support the local community, namely the Cooperative Cercimarante, an institution linked to young people with disabilities, in the preparation of the Street Theatre;
Developing the autonomy and self-esteem of young people with disabilities;
Stimulating the contact of young people with fewer opportunities with other young people from different cultures;
Fostering the personal and social development of young volunteers through non-formal education activities;
Providing young volunteers with knowledge of a new social and cultural reality enabling them to combat any kind of prejudice and stereotypes;
To promote the preservation and protection of cultural heritage at international and local level through direct contact and inclusion of the participants with the Amarante community
Type of Work: Activities: group dynamics; presentation to the city and region; discussion on the workcamp theme (objectives, tasks division); visit
to the most important places of the city; training on theatre performance and workshop on how to deal with the difference; direct
contact and work with local NGO (Cercimarante) responsible for activities with local handicapped young people; organize an event
(theatre performance) involving both groups (workcamp participants and local handicapped young people) to be presented to the
local community (street performance – expected more than 500 persons to attend);
Study Theme: Volunteers will acquire different competences and skills such as: - Development/practice of foreign language; - Group dynamics (NFE); - ICT tools for media and visibility; - Cultural awareness and expression; - Drama expression (main working method) and self-confidence; - Soft skills (working in groups, communication in public, problem solving, etc.).
Accommodation: Participants will be accommodated in shared rooms (4 participants each) of Casa da Juventude de Amarante (even so participants
should bring sleeping bag). Casa da Juventude de Amarante has its own kitchen, WC and showers. In terms of food, our youth
centre has a bar\restaurant proposal for the volunteers (breakfast, lunch and dinner) always taking into consideration our aims
(healthy food with organic and vegetarian ingredients). Laundry available (self-service). Our youth centre has free wireless
Approximate Location: Amarante is a small town in the North of Portugal, part of Porto district (60km far from Porto, to the interior) with 12 thousand inhabitants (in the city center). It is a quite famous city for tourism, culture and wine production. Indeed, is quite near (18km) the Oporto wine region. Is crossed by Tâmega River (one of the rivers ending at Douro River that crosses Porto till the Atlantic Ocean) and it is on the valley of one of the most important Portuguese mountains, Marão (1450m)
---
Camp Photographs