Ecological Farming for Saving our Planet (Marth near Göttingen)
Topic:
11: Climate and sustainable lifestyle
Work Types:
Agriculture / Construction / Environment
Number of places still available:
10
Free places last update:
Jul 14, 2022
International age:
18 - 99
Required Language:
English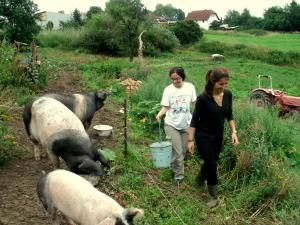 Description: The "Kastanienhof" is a historical timber-framed farm house under preservation order in Thuringia. It is situated in a small village surrounded by a beautiful landscape. The farm house is owned by an association that aims to preserve nature in an ecologically responsible and sustainable way. They conduct organic agriculture on their 2 hectare land with focus on the conservation of old useful plants and native animals. Further information: www.kastanienhof-marth.de
Type of Work: Reconstruction work on the outside of the house, partly with clay, (work on a scaffold!), a little bit of farm work, work with wood, helping at the medieval festival Burg Hanstein (6. - 7.8.2022), cooking together with people from the farm.
Study Theme: Eco House Construction and Renewable Energy (Solar, plant oil, biomass), Eco Agriculture, climate protection; political situation in the countries of the participants.
Accommodation: Sleeping in big tents outside or you can bring your own tent which you also can put up in the barn. Simple hygienic conditions, bucket toilet, shower outside. The food made from ecologically grown products, vegan and vegetarian diet is possible.
Language: The common language will be English.
Requirements: Readiness to do physical work 6 hours daily, ability to adapt to very basic conditions (bucket toilet, outside showers). If you like, bring along a costume for the medieval festival.
Approximate Location: The small village of Marth is located right in the middle of Germany. The area is known for its beautiful landscape and unique culture: there are castles, cathedrals and other ancient monuments and you can even find places of pilgrimage! You can visit the beautiful small town Hannoversch-Münden with lots of timber-framed houses and the old university-city Göttingen.
Notes: Covid19: We organise our workcamps according to the regulations at the time of the workcamp. We will inform you about this in the Infosheet and by email. Please mind the vaccination and testing regulations for entering Germany: https://t1p.de/at82o
Please kindly note that there is an additional incoming fee of 50 € for all volunteers applying through Partner organisations or Contacts of the SCI network. This will cover international insurance costs of the volunteer and administration costs of SCI International. For volunteers coming from countries with SCI Branches and Groups there is no additional incoming fee. You can check the status of your local sending organisation here: https://rb.gy/fveuew. If this fee exceeds your financial ability, please make a comment in your application.
Organization Description: This workcamp is organized by the German branch of Service Civil International (SCI). SCI Germany was founded in 1946 and is approved as a non-profit organisation. We are one of the oldest peace and volunteer organisations. SCI Germany aims to promote peace, non-violence, international solidarity, social justice, sustainable development and cross-cultural exchange through international voluntary work. We cooperate with a network of branches and partners in more than 90 countries. Every year, SCI Germany organizes about 50 international workcamps in Germany.

---
Camp Photographs