Experience Renewable Energies II (Glücksburg near Baltic Sea)
Topic:
11: Climate and sustainable lifestyle
Work Types:
Environment / Manual / Study, discussion, research
Number of places still available:
0
Free places last update:
Jul 13, 2022
International age:
18 - 99
Required Language:
English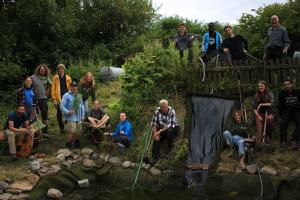 Description: Energy transition without dependencies on gas,oil, coal - (how ) is that possible? . The Center for Sustainable Development "artefact" is 100% self-sufficient in renewable energies. In Glücksburg on the Flensburg Fjord near the Danish border, the non-profit GmbH operates a guest house built in clay architecture and a climate park for tourists and other visitors and runs project days and seminars on global learning. The building, the climate park and the nature experience area have to be repaired again and again and extended by new stations. Support the park with other volunteers to stay attractive for visitors.
Type of Work: Construction of a wooden workshop, repair work and further development of the renewed climate park for visitors, planting of a water reservoir, maintenance work on the grounds such as painting, weeding, etc.
Study Theme: Climate change, use of renewable energies, possibly strategy game "Changing the Game" to simulate a European energy transition. How are (in)dependence on fossil energies, democracy and peace connected? Ukrainian, Russian and other Eastern European volunteers are especially invited for exchange.
Accommodation: in your own tent (please bring with you a tent, a sleeping mat and a thick sleeping bag); on the site of the Climatepark, toilet (interesting compost toilets) and shower (experience solar shower) available.
You will cook together in the recreation and cooking building of the Africa House in the nature experience room.
Language: English
Requirements: Interest in the topic of climate protection and renewable energies are just as much a required as the acceptance of simple living conditions; manual skills helpful.
Approximate Location: Glücksburg, near Flensburg. Leisure time: there is the possibility to visit a moated castle, an excursion to the Baltic Sea, Flensburg and Denmark etc.
Notes: Covid19: We organise our workcamps according to the regulations at the time of the workcamp. We will inform you about this in the Infosheet and by email. Please mind the vaccination and testing regulations for entering Germany: https://t1p.de/at82o
Please kindly note that there is an additional incoming fee of 50 € for all volunteers applying through Partner organisations or Contacts of the SCI network. This will cover international insurance costs of the volunteer and administration costs of SCI International. For volunteers coming from countries with SCI Branches and Groups there is no additional incoming fee. You can check the status of your local sending organisation here: https://rb.gy/fveuew. If this fee exceeds your financial ability, please make a comment in your application.
Organization Description: This workcamp is organized by the German branch of Service Civil International (SCI). SCI Germany was founded in 1946 and is approved as a non-profit organisation. We are one of the oldest peace and volunteer organisations. SCI Germany aims to promote peace, non-violence, international solidarity, social justice, sustainable development and cross-cultural exchange through international voluntary work. We cooperate with a network of branches and partners in more than 90 countries. Every year, SCI Germany organizes about 50 international workcamps in Germany.

---
Camp Photographs