"Hear with your eyes, see with your ears - memories of female concentration camp survivors" Onlinecamp
Topic:
1: Antiracism, antifascism, remembrance
Special Topics:
Climate for Peace Programme
Work Types:
Study, discussion, research
Number of places still available:
3
Free places last update:
Jul 28, 2022
International age:
18 - 99
Required Language:
English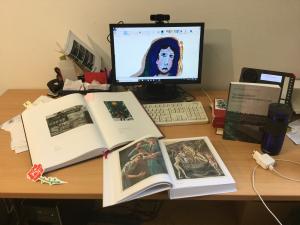 Description: In the work- and study camp you will have the opportunity to meet other volunteers online. You will work together on video interviews of women from different countries who survived the Ravensbrück women's concentration camp and were willing to share their memories. Ravensbrück existed from 1939-1945, more than 120,000 women from at least 40 countries were imprisoned there. Tens of thousands of people did not survive. Today there are only a few sources from the camp period, so interviews with survivors are of great importance for the memorial. Your support and commitment to prepare and make these interviews accessible is strongly needed. The Online-Camp will be organized by our long-standing project partner, the Ravensbrück Memorial, north of Berlin.
Type of Work: Using selected video interviews, you will "hear with your eyes, see with your ears": what do the survivors say? What are they not telling and why? How are they doing in the interview? How are they coping with the memories of Ravensbrück? You will have the opportunity to train yourself in this biographical work and to develop your own perspectives and at the same time get to know the history of Ravensbrück concentration camp. Depending on your individual skills, you will prepare video interviews or contribute to the historical-biographical work of the memorial with translations and research.
Study Theme: Together with historical-pedagogical specialists, you will discuss our (new) perspectives on history and the present and gain an insight into the work behind the scenes at the memorial.
Accommodation: You will stay at home in front of your computer. The online meetings with the group take place five days a week (Mon-Fri) in the afternoon (German time). The exact timetable will be fixed with the workcamp group. Further meetings for joint activities, small group work or similar can be arranged with the group.
Language: Good knowledge of English is required.
Requirements: - Technical equipment (see below)
Willingness to participate reliably for the entire duration (5 days)
Knowledge of the usual office programs necessary, knowledge of transcription tools would be great but is not necessary
Sensitivity to the topic of remembrance, interest in different historical perspectives and cultures of remembrance
Notes: Please bring sensitivity for the topic of memorials and an interest in historical reappraisal and different perspectives. In addition to the study and work parts, the international online format offers an opportunity for exchange about different historical perspectives and cultures of remembrance as well as for understanding today's challenges. You can also expand your language skills here and make contacts with people in many other places. Your own ideas enrich the project. We have already had joint yoga sessions, chocolate design, movie nights, cooking evenings, DIY workshops, dance parties... Don't be shy and get involved with your ideas and creativity! For the time together, feel encouraged to actively contribute your own creative ideas.
Organization Description: This workcamp is organized by the German branch of Service Civil International (SCI). SCI Germany was founded in 1946 and is approved as a non-profit organisation. We are one of the oldest peace and volunteer organisations. SCI Germany aims to promote peace, non-violence, international solidarity, social justice, sustainable development and cross-cultural exchange through international voluntary work. We cooperate with a network of branches and partners in more than 90 countries. Every year, SCI Germany organizes about 50 international workcamps in Germany.

---
Camp Photographs