Forest Scout Camp in Masuria
Topic:
11: Climate and sustainable lifestyle
Special Topics:
COM_SCIOPS_CAMPS_NO_MORE_WAR_LABEL
Climate for Peace Programme
Work Types:
Environment / Work with children / Manual
Free places for Females:
-1
Free places last update:
Jun 22, 2022
International age:
18 - 99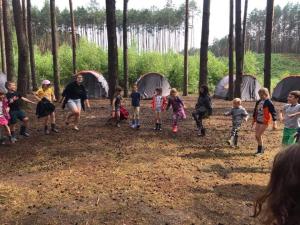 Description: The workcamp will be co-organized by the Polish Scouting and Guiding Association (ZHP) which was founded in 1918 and currently is the largest Scouting organization in Poland. It is also one of the largest social and educational associations in the country. We are going to organize a forest summer camp for children and youth coming from Warsaw and neighboring towns. The camp will take place in the amazing region of Masuria called "the land of thousand lakes" (in the north-eastern Poland). The aim of the camp is to develop the attitude of active citizenship, concern about the nature and social justice among young people and give them opportunity to spend their holidays in the natural surroundings of the Masurian forest, in one of the most beautiful areas of Poland.
Type of Work: Volunteers will support organization of sport, art and educational activities on ecological topics for the young scouts. They will also help with daily tasks needed at the campsite, like food preparation, cleaning, maintenance of the camping area. We are looking for enthusiastic, nature loving volunteers who are ready to work with youth and children. We would like to encourage young scouts to start speaking English. Please, note that although they learn English at school, most of them will be too shy to use it. For this reason, volunteers should be willing to communicate beyond language barriers, relying also on their creativity and non-verbal communication skills. Artistic skills and your own ideas for activities with young people are greatly welcome! Comfortable clothes are necessary!
Study Theme: Non-formal education for active citizenship, the Scout movement, learning how to live in harmony with nature. Possibly canoeing. The workcamp is also part of a project Together for Climate and Peace. As part of the project 6 hours of workshops on the topic of climate justice will be organized for volunteers.
Accommodation: In the forest camp by the lake, in basic conditions, we will all sleep in tents (tents and mattresses will be provided, volunteers should bring their own sleeping bags). There may be some problems with cell phone signal since the area is not urbanized.
Language: English
Requirements: All accepted volunteers are required to submit a criminal record check BEFORE the arrival. A valid vaccination certificate is mandatory for participation in this workcamp. Vegetarian food is available.
Approximate Location: Wydminy near Giżycko (Masuria region). There are direct buses from Warsaw to Giżycko 7 times a day (the last one leaves Warsaw at 6pm). You will need to travel to Giżycko. Organzators will pick you up from Giżycko and take you to the camp place.
Notes: We ask all participants to check with their health insurance provider how to proceed in case of illness or accident. Please remember that the insurance from SCI is not valid during your trip to and from the workcamp and is valid only during the camp period! Volunteers from EU must bring their European Health Insurance Card.
---
Camp Photographs