Art And Nature In Korpilahti
Topic:
12: Art, culture and local history
Work Types:
Art / Cultural heritage
Number of places still available:
0
Free places last update:
Aug 11, 2022
International age:
18 - 99
Required Language:
English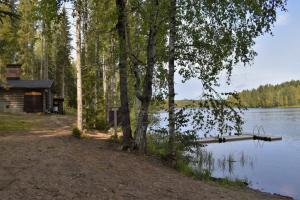 Description: The village association of Northern Korpilahti organizes activities for the residents of 5 villages.One of the local attractions is a cottage at lake Hangasjärvi, which has served as a resting place for local hiking routes and as a gathering spot for events. The village association is responsible for the cottage area.
Type of Work: The volunteers will use their creativity and art materials from nature to fix up the new outside toilets of the camping sites in the area and give them a new look. Volunteers may also do some smaller upkeeping tasks in the cottage area and participate in the daily tasks of the camp. Volunteers should bring their own camera if they have such, rubber boots and clothes for outside work. For one day the volunteers will also work with the local school. During their free time, the volunteers can go to the sauna, swim or try a rowing boat.
Study Theme: Active villages and Finnish nature
Accommodation: Volunteers will stay in a lakeside cottage that doesn't have electricity (just solar panels for lighting and fridge), but there is a cooking place and a grill to barbeque. Washing place is at the sauna by the lake and there are outside toilets. Volunteers will sleep in a cottage in shared rooms, with separate spaces for men and women. Volunteers need to bring their own sleeping bags. As there is no electricity, volunteers should also take an extra battery/power bank for their phones. Volunteers will cook their own meals.
Approximate Location: Jyväskylä, Central Finland
Notes: Please pay attention to sustainable travel.
Covid-19: Due to the possible changes in the coronavirus situation, we will confirm the camp 4 weeks before the starting date. Please don't book your travel tickets before the camp is confirmed.
Additional Fee of 50 EUR: If you reside in a country where there is an SCI branch and you apply through the SCI branch the fee will be included in the fee you pay to your sending branch. If you apply through a partner organization you will pay the fee directly to the hosting SCI branch through different payment platforms. When accepted on the project, the SCI branch will give you more details of the various payment options. Check here which is an SCI branch or SCI partner: https://sci.ngo/about-us/our-movement/where-we-are/
---
Camp Photographs