Old Mill Mini Music Festival (Schangnau BE)
Topic:
12: Art, culture and local history
Work Types:
Environment / Festival / Social
Number of places still available:
1
Free places last update:
Jul 12, 2022
International age:
18 - 99
Required Language:
English
Spoken Language:
French, German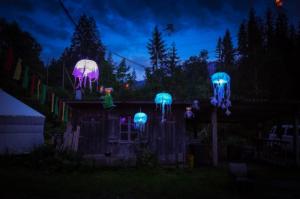 Description: The Old Mill Mini Music Festival is an alternative music-festival with up to 500 visitors. Its character is strictly non-commercial. There are no tickets (pay how much you like at the entrance), no rubbish bins (people collect their own rubbish themselves) and no fences or security-guys. This festival aims to show people new concepts of how to organize a music festival. We try to be environmentally friendly and have a good vibe on the site. There will be 1 indoor stage with music and a bar. The site is located in a nice Swiss rural area on the lands of an old farmhouse next to the river Emme.
Type of Work: Before the festival: physical work like building the infrastructure for the festival: bar, signs, toilets, tents as well as decoration of the festival site. During the festival: managing the parking lot, preparing food at food-stalls (meat), working at the bar, managing rubbish and toilets. After the festival: taking down the infrastructure (heavy physical work again). Further there will be quite some work in the organic garden.
Study Theme: You will be informed how to organize a small non-commercial music-festival. We can talk about our concept and how to realise it on the site. This won`t take too long, around 2 hours.
Accommodation: You are invited to bring your own tent to camp on the festival site. If you don't have your own tent, you will sleep in an old barn with no comfort at all. Women and men sleep in the same big room. Mattresses are provided, but there won't be any blankets, pillows or mattress covers. Please bring your own sleeping bag and beddings! The whole festival site can be very loud at night - it`s a music festival after all. There are 2 basic toilets for everyone with no comfort whatsoever and one regular shower. A washing machine is available. Wi-Fi is also available.
Language: Spoken languages at the camp site are English, French or German. Local language is Swiss German.
Requirements: NEW INCOMING FEE for volunteers applying via Partner organisations and Contacts of SCI: https://bit.ly/3iiJWI5
Notes: Before and after the festival weekend there will be one warm meal a day cooked and you will sometimes be asked to help. Breakfast and additional food will be provided by the project partner and organised among the volunteers. There are no regularly fixed meal times. Sometimes there is lunch and supper, sometimes only supper, depending on the work. But there is enough vegetarian food for everyone.
Organization Description: SCI Switzerland is a non-profit organisation which promotes intercultural exchange, sustainable development and non-violent conflict resolution. It has been organising workcamps and long-term exchanges for volunteers worldwide since 1920. Each year more than 100 volunteers from Switzerland engage in SCI projects abroad, while around 200 international volunteers participate in projects in Switzerland. SCI Switzerland is certified by the Intermundo quality label, which guarantees high quality standards in youth exchange. Swiss workcamps are mainly focused on the work with youth as well as in the area of environmental protection. That is why among SCI Switzerland`s values is also an environmentally friendly lifestyle in accordance with the ideas of sustainable development. Volunteers are encouraged to be eco-friendly, especially when travelling to Switzerland and during the projects. Before applying be aware of high travel costs within Switzerland and check prices on the railway website www.sbb.ch. A participation in the camp from the first until the last day is needed for reason of instruction and group dynamic.

---
Camp Photographs