Let's Maintain the Seminar House for Antifascists (Buchholz near Hamburg)
Topic:
1: Antiracism, antifascism, remembrance
Work Types:
Construction / Manual / Peace
Number of places still available:
11
Free places last update:
Nov 07, 2022
International age:
18 - 99
Required Language:
English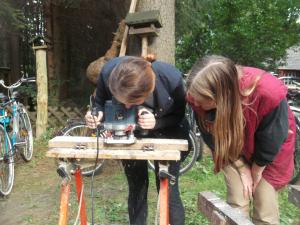 Description: In 1945 the recreation centre "Heideruh" was built by antifascists to support the survivors of the Nazi regime and children whose parents were politically persecuted, driven underground, who were prisoners in concentration camps or even have been murdered. After gruesome years of fascist dictatorship, relatives, survivors and friends built a place of refuge amidst woodland where they could regain strength to continue their fight for a better world. Until today, Heideruh is a place for pacifists and antifascists. Very often like-minded people from different generations meet up there. Now, the place is to be made more attractive to younger generations, preparing for a time without contemporary witnesses. This year the camp will provide great opportunity to learn woodwork, also with machines.
Type of Work: This February Heideruh was struck by a severe storm. Several big trees fell and damaged cars and facilities in the exterior area, like the "barefoot walking path" which was built and cared for by many former workcamps. The camp group will work for about 6 days, doing repair, maintenance, and extension of the "barefoot walking path" and the "all generations" playground, the focal point is on working with wood, you learn different techniques and also how to use several machines. Everybody is welcome to try it out.
Study Theme: Documentation of the workcamp, visiting the memorial site of the former concentration camp Hamburg-Neuengamme, discussions about history and present political situation in your countries. It might be possible to meet survivors or descendants. The Study Part is partly drawn up by the Auschwitz committee.
Accommodation: Accommodation in double- or single-bedrooms, on some days, when there will be many guests at Heideruh, it might be possible that some volunteers will have to move to tents, which will be provided by the project. Full catering by the canteen of Heideruh. Vegetarian and vegan is possible. During the day warm beverages and water will be offered. Other beverages are for sale in a very cheap bar in Heideruh.
Language: The common language will be English.
Requirements: Being interested in antifascism, showing consideration for elderly, being interested in learning woodwork and realizing manageable building projects.
Approximate Location: Buchholz is located in North-West Germany, only 40 kilometres away from Hamburg. The area around Buchholz impresses with its National Parks in the "Heath of Lüneburg" (Lüneburger Heide); Heideruh is situated in a big forest, you can walk to the Lüneburger Heide in roughly 45 minutes along a very nice landscape.
Notes: Covid19: We organise our workcamps according to the regulations at the time of the workcamp. We will inform you about this in the Infosheet and by email. Please mind the vaccination and testing regulations for entering Germany: https://t1p.de/at82o
Please kindly note that there is an additional incoming fee of 50 € for all volunteers applying through Partner organisations or Contacts of the SCI network. This will cover international insurance costs of the volunteer and administration costs of SCI International. For volunteers coming from countries with SCI Branches and Groups there is no additional incoming fee. You can check the status of your local sending organisation here: https://rb.gy/fveuew. If this fee exceeds your financial ability, please make a comment in your application.
Organization Description: This workcamp is organized by the German branch of Service Civil International (SCI). SCI Germany was founded in 1946 and is approved as a non-profit organisation. We are one of the oldest peace and volunteer organisations. SCI Germany aims to promote peace, non-violence, international solidarity, social justice, sustainable development and cross-cultural exchange through international voluntary work. We cooperate with a network of branches and partners in more than 90 countries. Every year, SCI Germany organizes about 50 international workcamps in Germany.

---
Camp Photographs