Umwelt- und Sozialeinsatz auf der Alpe Loasa (Bruzella TI)
Topic:
10: Environment protection
Work Types:
Manual / Restoration, renovation
Number of places still available:
5
Free places last update:
Jul 08, 2022
International age:
16 - 36
Extra fee to be paid in the hosting country:
60.00 Swiss Franc [63 US Dollar]
Breakdown:
Accommodation and food: 60.00 Swiss Franc
Transportation: 0.00 Swiss Franc
Activities: 0.00 Swiss Franc
Hosting organisation support: 0 Swiss Franc
Purpose of extra costs:
Das ist ein spezielles Projekt mit einer ausserordentlichen Gebühr für Freiwillige die aus dem Ausland anreisen von 60 CHF.
Required Language:
German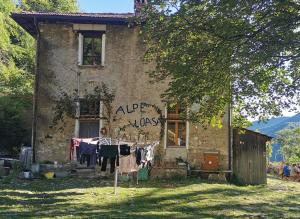 Description: Die "Alpe Loasa" ist ein ganzjährig bewirtschafteter Bio-Bergbauernhof in der Südschweiz, an der Grenze zu Italien. Der Hof liegt abseits von Städten und Dörfern, ist nur zu Fuss oder mit dem Pferd erreichbar und verfügt über eine einfache Unterkunft. Die vielen Arbeiten werden in der Regel von der jungen Pächterfamilie und der Genossenschaft in Handarbeit erledigt. Hier sind viele helfende Menschen sehr nützlich. Als Gegenleistung für die Arbeit und die Abgeschiedenheit des Ortes bieten wir ein intensives Gemeinschaftserlebnis. Auf der Alpe Loasa oberhalb von Bruzella im Südtessin stehen Berge, Tiere und Gemeinschaft mit andern Jugendlichen und jungen Erwachsenen im Mittelpunkt.
Type of Work: Wir tun, was gerade ansteht: Heuen, Holz hacken, Steinschlagschutz bauen, Wegunterhalt oder auf dem Feuer kochen. Damit unterstützen wir die Pächter der Alp bei ihrer Arbeit und Abwechslung gibt's durch eine Wanderung an die Grenze, ein Gesellschaftsspiel oder die Siesta in der Hängematte. Einfach mal was anderes tun – bist du dabei?
Accommodation: Einfache Unterkunft in einem Gruppenzimmer. Bringe deinen eigenen Schlafsack mit. (Matratzen, Wolldecken und Kopfkissen vorhanden). Komposttoilette, fliessendes kaltes Wasser im Haus, Aussendusche im nahe gelegenen Wald mit kaltem Wasser nur ~10 C°+ (wenn der Sommer sehr trocken ist, kann das Wasser in der Dusche auslaufen). Handwäsche mit heissem Wasser aus dem Holzofen ist möglich. Kein Internet- und Handyempfang (in fünf Minuten erreicht man einen Ort, wo man zwischendurch mal aufs Internet kann). Ein Festnetztelefon ist für Notfälle verfügbar.
Language: Die Campkoordinatorin versteht neben Deutsch auch Englisch, Französich, Italienisch Spanisch und Westsüdslawisch.
Requirements: Du solltest ein einfaches, genügsames Leben in einer Gemeinschaft zu schätzen wissen. Eine gute körperliche Verfassung ist notwendig.
Mit Freiwilligen aus dem Ausland behalten wir uns vor ein kurzes Interview zu machen, um die Sprachkenntnisse zu prüfen.
Notes: Ausserdem solltest du robuste Schuhe, Arbeitskleidung sowie Sonnen- und Regenschutz mitbringen.
Organization Description: SCI Switzerland is a non-profit organisation which promotes intercultural exchange, sustainable development and non-violent conflict resolution. It has been organizing workcamps and long-term exchanges for volunteers worldwide since 1920. Each year more than 100 volunteers from Switzerland engage in SCI projects abroad, while around 200 international volunteers participate in projects in Switzerland. SCI Switzerland is certified by the Intermundo quality label, which guarantees high quality standards in youth exchange. Swiss workcamps are mainly focused on the work with youth as well as in the area of environmental protection. That is why among SCI Switzerland`s values is also an environmentally friendly lifestyle in accordance with the ideas of sustainable development. Volunteers are encouraged to be eco-friendly, especially when travelling to Switzerland and during the projects. Before applying be aware of high travel costs within Switzerland and check prices on the railway website www.sbb.ch. A participation in the camp from the first until the last day is needed for reason of instruction and group dynamic.

---
Camp Photographs