Grassroot for (Climate) Change / Peace
This project is part of the SCI North South Programmes. Volunteers should be 20 years old, have previous volunteering experience and take part in the Preparation Workshops organised by their sending branch. More details from your sending branch.

Topic:
13: Community life
Special Topics:
Climate for Peace Programme
Work Types:
Environment / Peace
Free places for Males:
10
Free places for Females:
9
Free places last update:
Oct 25, 2022
International age:
18 - 99
Extra fee to be paid in the hosting country:
250.00 Euro [268 US Dollar]
Breakdown:
Accommodation and food: 100.00 Euro
Transportation: 50.00 Euro
Activities: 50.00 Euro
Hosting organisation support: 50 Euro
Purpose of extra costs:
Feeding, Accommodation, Return local Transport to and from Venue, Evening pop up, On-arrival preparation, mid-camp evaluation, planned excursion and final evaluation.
Required Language:
English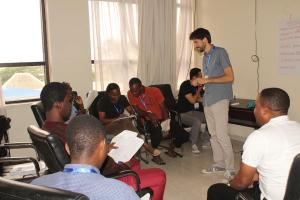 Description: Eruwa derived its name from the way in which hawkers advertised roasted yams to the northern caravans who constantly congregated in the town. The method of hawking employed was Eru wa nibi o i.e. (pieces of yam are available here). The four quarters in Eruwa at that time; Anko, Oke Oba, Isaba and Aborerin settled on Ilewu hill which offered greater protection and security during the period wars in Yoruba land (from 1830's to 1890's). The indigenous economic activity of the people of Eruwa revolves around agriculture which includes farming, hunting and animal husbandry. The town now have many higher institutions engaging the young school leavers to improve their education and advance to the higher level through tertiary education.
Type of Work: Volunteers together will prepare activities around the youth hostel, work with the students on campus. Run an informal workshops on Environment / Gender inclusiveness and mixed community. Hands-on activity will manage a planned youth hostel for the students in the campus. Menial construction along with raising fence in an open land. Engage in crops and tree planting. Using the local materials to make benches and resting place. Youngsters' events will include visit, games, social night and intercultural festival.
Study Theme: Grassroot for (Climate) Change / Gender / Peace
Accommodation: Volunteers will stay together in a provided hostel in the community. The facilities within the centre are basic, with shared room, shower, and kitchen. Please bring your own sleeping bag.
Language: Basic Knowledge of English Language is acceptable
Requirements: Volunteers should be open to new cultures, enthusiastic to exchange/learn about environmental issues. Please come working gloves, water proof clothes and booths.
Approximate Location: The workcamp will be held in Eruwa Town of Ibarapa area of Oyo State. An ecological environment with mixed culture from different ethnic groups.
Notes: Come with your energy and motivation and be part of group dynamics to create synergy in the midst of the project
---
Camp Photographs