Searching for Traces of Forced Labour (Berlin-Schöneweide)
Topic:
1: Antiracism, antifascism, remembrance
Work Types:
Art / Study, discussion, research
Number of places still available:
0
Free places last update:
Jun 30, 2022
International age:
18 - 26
Required Language:
English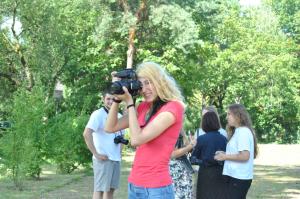 Description: The study camp takes place in cooperation with the International Youth Meeting Centre of the Nazi Forced Labour Documentation Centre. At the core of the project there will be a preparation of a photo exhibition on the topic of NS-forced labour and an exploration of the former camp and production sites in Berlin Schöneweide and its surroundings. Nazi Forced Labour Documentation Centre is located on the grounds of an almost completely intact former forced labour camp in Berlin Schöneweide. The exhibitions, archives, and educational programmes focus on a forgotten victim group: about 8.4 million civilians from all over Europe (up until 2006 without their own memorial site) who were forced to work for the Nazi regime during the Second World War.
Type of Work: During the project "Searching for Traces of Forced Labour" international participants will be invited to search for traces of NS-forced labour in different places in Berlin and investigate how these sites were influenced by the Second World War and by Nazi forced labour. The project will be accompanied by a professional photographer who will introduce the participants into photography and help them develop their own visual stories. As a result of the project, the visual stories will become part of an exhibition that will be shown in the Nazi Forced Labour Documentation Centre.
Study Theme: Historical and contemporary forms of forced labour, memory of Nazi forced labour and Second World War.
Accommodation: Simple accommodation in a hostel or in a shared flat.
Language: The common language will be English.
Requirements: No prior knowledge is necessary. Participants should be interested in the history of National Socialism and photography. A motivation letter is required and will be answered ca. 5 days after reaching us.
Approximate Location: The study camp will take place in Berlin-Schöneweide located in the south-east of the city. Visiting the numerous sights of Berlin, hiking and swimming is possible.
Notes: Covid19: We organise our workcamps according to the regulations at the time of the workcamp. We will inform you about this in the Infosheet and by email. Please mind the vaccination and testing regulations for entering Germany: https://t1p.de/at82o
Please kindly note that there is an additional incoming fee of 50 € for all volunteers applying through Partner organisations or Contacts of the SCI network. This will cover international insurance costs of the volunteer and administration costs of SCI International. For volunteers coming from countries with SCI Branches and Groups there is no additional incoming fee. You can check the status of your local sending organisation here: https://rb.gy/fveuew. If this fee exceeds your financial ability, please make a comment in your application.
Organization Description: This workcamp is organized by the German branch of Service Civil International (SCI). SCI Germany was founded in 1946 and is approved as a non-profit organisation. We are one of the oldest peace and volunteer organisations. SCI Germany aims to promote peace, non-violence, international solidarity, social justice, sustainable development and cross-cultural exchange through international voluntary work. We cooperate with a network of branches and partners in more than 90 countries. Every year, SCI Germany organizes about 50 international workcamps in Germany.

---
Camp Photographs