Topic:
7: Children and youth
Work Types:
Art / Work with children
Number of places still available:
7
Free places last update:
Oct 07, 2022
International age:
18 - 99
Required Language:
English
Motivation letter:
This camp requires an additional motivation letter to explain in more detail why you would like to attend.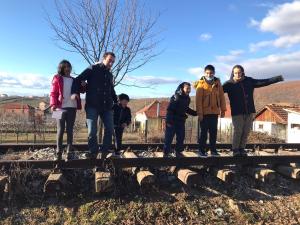 Description: Since 2016, GAIA is running an alternative educational space located in the Roma neighbourhood in Gracanica. The education space has grown and changes, and this year it is run by two organizations – GAIA and Roma Versitas Kosovo (RVK). It functions mainly through the presence of international volunteers and local members, who support the children and youth by teaching basic knowledge, running activities including games, learning languages, arts and crafts... Using non-formal education methods increases the children's interest in gaining knowledge. It also creates opportunities for local youth to develop other skills through music, creative workshops, crafts, and much more. There are around 30 children and teenagers currently coming by and participating in the center's activities.
Type of Work: The workcamps aim will be organizing a summer camp with the children and youth. The volunteers will be involved in the organization of daily activities. Activities will focus on variety of arts and crafts, music workshops, understanding nature, environment, human rights workshops, science and experiments, language learning, sports and recreation activities, and many more, imagination has no bounds! You will be encouraged to share your own ideas, knowledge and skills to create your own workshops or activities as part of the workcamp's program; the possibilities are vast! Even though most of the activities will take place within the education space itself and the mahala, you will also participate and help with an excursion outside of Gracanica, supervising the group of kids and youth.
Study Theme: During the workcamp, you will have the opportunity to experience working with a marginalized group, but you will also have the opportunity to exchange and learn from the other volunteers as well as from the children and the community. Being hosted by two organizations – GAIA and RVK, you will also have the chance to learn about their impact on the local communities, as well as about social injustices, Roma rights, environmental issues and more. The learning process is experiential and informal, and depends on how you engage in the activities and with the community.
Accommodation: The volunteers will be accommodated in the volunteer's house, in one room in the education space in Gracanica and in tents in the garden. Thus, it is necessary that you bring your own sleeping bag. Participants will share living and working spaces, kitchen and bathroom. The house possesses all basic facilities and amenities. Cooking will be done together with all volunteers and the food will be vegetarian and locally sourced. We have cats and dogs, so you should be animal friendly.
Language: We use English to communicate and work together. Kids and teenagers speak Romani and Serbian, and some of them also speak Albanian. Some of them speak English as well and can help you with the others who don't. Most long-term volunteers speak the local language and will be able to translate and make communication with the children easier.
Requirements: Previous experience working with children is a plus, but you should mainly be motivated, enthusiastic, and flexible. People with various interesting and unique skills and talents are always welcome! As it is summer school break, the children will be full of energy, so be prepared to invest a lot of your own :).
Approximate Location: The camp will take place in Gracanica, located 7 km away from Pristina, the capital city. It is a Serbian town, mainly known for its 14th century Orthodox monastery. It counts around 11 000 inhabitants, out of which around 1 800 are members of the Roma community. There are a few nice places nearby that can be visited such as an artificial lake (Badovac, 5km away), an archeological site dating back to the Roman period (Ulpiana, 2 km away) and a bear refuge (Bear Sanctuary Prishtina, 10km away). There are also some small mountains for short hikes close to the camp.
Notes: Motivation letter is required. Full covid vaccination is required. To enter Kosovo you need a passport. You can enter with an ID only if your ID is biometric and you are European citizen. The official currency of Kosovo is Euro. There are several ATMs in Gracanica.
Organization Description: GAIA, branch of SCI in Kosovo, is a peace organization working in a field of peace, understanding and solidarity between people, social justice and respect of environment. GAIA is also promoting cultural diversity and works on education and integration of marginalized and minority group in society. The main activities of GAIA are workcamps, youth exchanges, non-formal educational programs (trainings, workshops, seminars), organization of festivals, promotion of volunteering and solidarity in region of Balkans. http://gaiakosovo.org/

---
Camp Photographs