Spanish Environmental Workcamp In Harmony With Nature
Topic:
11: Climate and sustainable lifestyle
Special Topics:
Climate for Peace Programme
Work Types:
Construction / Manual / Peace
Number of places still available:
6
Free places last update:
Jul 20, 2022
International age:
18 - 99
Required Language:
Spanish
Motivation letter:
This camp requires an additional motivation letter to explain in more detail why you would like to attend.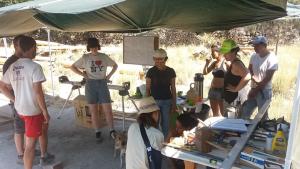 Description: If you are interested in doing an environmental workcamp in Spain this summer, you can volunteer for this amazing project located in Villanueva de la Vera (Cáceres), from 10th to 25th August. "Amasarte" is a non-profit association which was founded in 2008 by a small collective of artists. Focusing on theatre, nature & sustainability, our activities are mainly for children and people with disabilities. Now we want to develop a new space in order to make new activities for all type of people. This new place will be made of natural materials. We want to share this knowledge so anyone can learn how to make their own bio climatic house easy, healthy and affordable.
We invite you to learn how to build a straw bale and clay plaster house surrounded by a wonderful natural environment.
Type of Work: We will have two different types of work. Both fun and easy. One will be the work with straw bales: fitting them in a wooden structure to build a little house, sorting up windows. The other one will be to use clay plaster to cover the straw bale walls (we will provide gloves) 5 hours of work a day are required in the morning (Mondays and Tuesdays) and 4 hours afternoons ( Wednesdays, Thursdays, Fridays and Saturdays) . The work will be two days in the morning and the other four days in the afternoon. Free full day per week (Sundays). Also one of the volunteers will be cooking for the others, this can be rotative.
Study Theme: Environmental bioconstruction, rural life promotion, arts & crafts.
Accommodation: If possible, please bring your camping tent, if you don't have one don't worry we will provide a place to sleep. We have some individuals, double and collective tents. We will also provide mattress and a pillow, but please don't forget your sleeping bag: if you don't have one, please tell us. We have electricity but it is a basic solar installation, which means we will only have power for basic things as lights, mobile phone charging and a bit more. It will not be possible to charge tablets or computers, sorry! We will cook for you vegetarian and local dishes, but all help will be appreciated.
Language: English, Italian & Spanish
Requirements: A negative Covid-19 test (PCR or antigen 72h) or a vaccination certificate is mandatory for participation in the workcamp.
Approximate Location: Villanueva de la Vera, Cáceres, Spain.
Notes: Additional Fee
In 2022 many SCI workcamps will have an additional fee of €50.00. This will cover - local hosting costs; insurance costs of the volunteer; a small travel fund to enable disadvantaged volunteers to join projects; administration costs of SCI International.
If you apply through an SCI branch the fee will be included in the fee you pay to your sending branch. If you apply through a partner organisation you will pay the fee on arrival at the project; direct to the hosting branch or through different payment platforms. When accepted on the project the host branch will give you more details of the various payment options.
---
Camp Photographs