Topic:
7: Children and youth
Number of places still available:
9
Free places last update:
Jun 17, 2022
International age:
18 - 65
Required Language:
Spanish
Motivation letter:
This camp requires an additional motivation letter to explain in more detail why you would like to attend.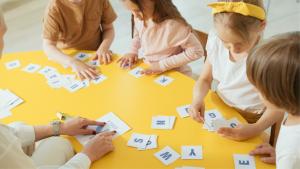 Description: Town Council of Villarejo, in collaboration with Villarejo Educa, Horuelo Association and the NGO SCI Madrid, seeks to implement a work camp dedicated to promote coexistence and multicultural & educational enrichment due to a participation of volunteers from different countries who will stay in Villarejo de Salvanés.
Type of Work: The proposal includes a program of activities for children and young people and a parallel program aimed at volunteers´ learning about the history and heritage of our town and becoming its ambassadors in their places of origin.
Study Theme: OBJECTIVES OF THE WORKCAMP:
The development of leisure and free time activities in favor of coexistence and mutual knowledge for the population of Villarejo de Salvanés.
Dynamize family and friends gatherings with educational activities in public squares during the summer.
To promote an ecological perspective in leisure activities and to raise awareness about the waste generation in daily life.
To work on environmental education, in order to increase the appreciation of the natural environment by the inhabitants of Villarejo.
Accommodation: Accommodation will be provided in the tatami room of the Polideportivo Mariano Díaz, where volunteers will be accommodated with their own sleeping bags. The space also has toilets and showers.
There will be a workroom in this same pavilion to prepare the activities and their materials. The dining room facilities of CEIP Ntra. Sra. de la Victoria will be the place for food storage, which will be provided by the organisation.
Language: Spanish and english
Requirements: -A negative Covid-19 test (PCR or antigen 72h) or a vaccination certificate is mandatory for participation in the workcamp. -Criminal records certificate
Approximate Location: Villarejo de Salvanés, Madrid, Spain
Notes: In 2022 many SCI workcamps will have an additional fee of €50.00. This will cover - local hosting costs; insurance costs of the volunteer; a small travel fund to enable disadvantaged volunteers to join projects; administration costs of SCI International.
If you apply through an SCI branch the fee will be included in the fee you pay to your sending branch. If you apply through a partner organisation you will pay the fee on arrival at the project; direct to the hosting branch or through different payment platforms. When accepted on the project the host branch will give you more details of the various payment options.
---
Camp Photographs