Topic:
10: Environment protection
Work Types:
Environment / Peace / Work with animals
Number of places still available:
0
Free places last update:
Jun 14, 2022
International age:
18 - 99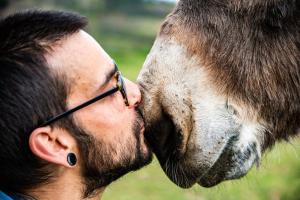 Description: An animal sanctuary is a place where animals of different species can lead the life that corresponds to them as sentient individuals with their own interests; a place free of speciesism, mistreatment and exploitation, where their different needs are met. In the sanctuaries, the individuals who live there are respected and they try to give them the best life possible. In the Vacaloura Sanctuary, in addition to ensuring a decent life for the animals that live here, we also aim to spread anti-speciesism and veganism, to achieve a more respectful society with non-human animals.
Vacaloura Sanctuary is a place where:
We rescue lives.
We are all the same.
Life is respected.
Animals are free.
We fight for justice.
We promote veganism.
Type of Work: The task to be carried out will be maintenance of the shelter: cleaning and built the new shelter (putting up fences, setting up the booths, conditioning the different lands,…) and collection and preparation of animal feed. The work will last 6 hours a day, and the rest of the time, they can spend with the animals or visiting the city. Volunteers will work in both lands, in Santiago de Compostela and Arzúa.
Study Theme: Animal rescue
Accommodation: The volunteers will stay in the Sanctuary house that has three rooms and a small motorhome. And they will always sleep in Santiago de Compostela.
Language: Spanish, english
Approximate Location: We are located near Santiago de Compostela (Galicia).
Notes: You can visit our page to learn a little about the animals you will live with if you dare to volunteer: https://santuariovacaloura,org/es/que-es/
---
Camp Photographs