Discover Agro-ecological and biodiversity project in Benin
This project is part of the SCI North South Programmes. Volunteers should be 20 years old, have previous volunteering experience and take part in the Preparation Workshops organised by their sending branch. More details from your sending branch.

Topic:
10: Environment protection
Work Types:
Archaeology / Environment / Work with animals
Number of places still available:
12
International age:
20 - 99
Extra fee to be paid in the hosting country:
250.00 Euro [269 US Dollar]
Breakdown:
Accommodation and food: 30.00 Euro
Transportation: 10.00 Euro
Activities: 0.00 Euro
Hosting organisation support: 210 Euro
Required Language:
French
Child friendly camp
Yes (Minimum age: 6)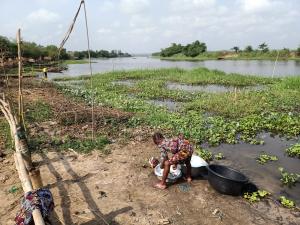 Description: Agro-ecology is at the center of the activities of CREDI ONG, which experiments with various animal and plant productions in order to offer populations new possibilities of diversifying their income: fruit juices, market gardening, fish production, rabbits... The organization also plans to develop the tourist attraction of the Kpotomey site and to offer visitors an experience rich in emotions in direct contact with nature. At the level of the Natural Park, CREDI ONG also implements a biodiversity monitoring system.The project "Agro-ecological and biodiversity vegetable garden-school" offers volunteers the opportunity to concretely participate in the development of CREDI NGO activities, the purpose of which is to protect nature and offer services that benefit local communities.
Type of Work: The volunteers will get involved mainly in the revitalization of the unit of plant production demonstration and will play an active role in feeding and caring for the animals in the shelter, monitoring biodiversity, in particular ornithological monitoring, and crocodile tracking.In terms of plant production, it will essentially be market gardening. The main tasks to be carried out at this level are: plowing and building the beds, seeding and/or planting in the nursery, transplanting, watering, making compost and biofertilizers, mulching and all related tasks.In order to live a human experience, volunteers will be invited in groups of 2 to spend half a day of work and discussion and a night with a family from a local community who will host them.
Study Theme: Smart Agriculture and Nature Conservation Activity
Accommodation: - Accommodation in rooms with 5 to 6 beds max, bathrooms included, within the Sita'Lodge, in the hamlet of Kpotomey where CREDI ONG has its offices and infrastructure.
Linens provided. No mosquito nets but it is possible to buy them in Zinvié, the neighboring village 1km away.
Local food
If the volunteers would like to cook a recipe at some point, they can have special permission to do so in the kitchen of the local café.
Language: English speaking volunteers are welcome but basics in french are required to speak with local communities.
Requirements: There is no need for pre-requisites to participate in this workcamp, although the subject is quite specific. The most important thing is commitment and motivation to learn and help. You won't need to follow any agricultural or environmental management training before participating. It is a project that aims to be an opportunity for mutual discovery and learning. If you like naturalistic outings an
Approximate Location: Benin , in Kpotomey, close to the village of Zinvié. About 30 minutes from Cotonou.