Summer School Camp for Ukrainian children in Poznan
Topic:
2: Refugees, immigrants and ethnic minorities
Special Topics:
COM_SCIOPS_CAMPS_NO_MORE_WAR_LABEL
Climate for Peace Programme
Work Types:
Art / Work with children / Social
Free places for Females:
0
Free places last update:
Jul 08, 2022
International age:
18 - 99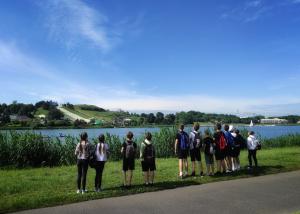 Description: Poznań is one of the largest and oldest cities in Poland. Like other Polish cities, since the Russian invasion of Ukraine, the city has accepted thousands of Ukrainian refugees, mostly women and children. Due to that, in the last few months, the population of Poznan has grown by around 20%.
SCI Poland's headquarters are located in Poznań, in a neighbourhood where many Ukrainian refugees live now. In recent months, around 100 Ukrainian children have been enrolled in a local primary school, with which SCI Poland cooperates. In cooperation with Ukrainian educators and artists now living in Poznań, we are planning to organize summer activities for 30 of them. For most of them, it will be the only chance to participate in well planned, interesting activities during the summer.
Type of Work: Children will take part in art workshops, sports and outdoor activities, gardening workshops. The workshops will be organized in the school building and in the area around it, where two beautiful parks and community gardens are located. We will use contact with nature as a source of inspiration and trauma healing.
Volunteers will support educators in organizing workshops for Ukrainian children and organize activities themselves: games, sports, art, and outdoor activities. They will also socialise with the children and bring fresh energy and relaxation to their everyday lives. They will assist children with manual activities and encourage them to speak English.
We invite volunteers who are interested in working with children and with refugees, who have an interest in the arts and ecology.
Study Theme: Art and nature education. Refugees in Poland and worldwide. Ecology.
The workcamp is part of a Together for Climate and Peace project. As part of the project, 6 hours of workshops on the topic of climate justice will be organized by local volunteers from SCI Poland for the participants of the workcamp.
Accommodation: In rooms in a university student house in Poznań.
Language: English
Requirements: All accepted volunteers are required to submit a criminal record check BEFORE the arrival. Vegetarian food is available.
Approximate Location: Poznań
Notes: We ask all participants to check with their health insurance provider how to proceed in case of illness or accident. Please remember that the insurance from SCI is not valid during your trip to and from the workcamp and is valid only during the camp period! Volunteers from EU must bring their European Health Insurance Card.
---
Camp Photographs