[ESC] Antifascist festival ''Renoize 2022'' (Roma)
Topic:
1: Antiracism, antifascism, remembrance
Work Types:
Festival / Manual / Social
Number of places still available:
7
Free places last update:
Aug 03, 2022
International age:
18 - 30
Required Language:
English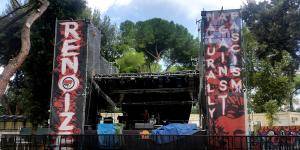 Description: "La Città dell'Utopia" (Utopia City) is a project of SCI Italy that takes place in Rome (San Paolo neighborhood). The project is an ongoing workshop on active citizenship and local development. There are different events, initiatives, courses and workshops organized around different main themes: interculturality, sustainable lifestyles, antifascism and active citizenship. This year will be the seventh edition of the fesyival and camp "Renoize" camp, dedicated to collecting and disscusing stories about local antifascism , actual and historical. The location where is "La Citta' dell'Utopia" today, during fascistic period in Italy was used as a shelter for partisans combating this totalitaristic system and until today remained a symbol of Resistance.
Type of Work: The Camp focuses on the topic of antifascism, its historical role in political systems but also its role in modern society. Activities: During the workcamp, the volunteers will have a workload of around 6-7 hours per day. During these hours, they will be supporting the staff of La Cittá dell'Utopia with organizing the indoor and outdoor spaces of the festival. In addition, they will actively support the preparation, running and cleaning up after the event Renoize 2022. Lastly, they will contribute to some practical activities related to the project "La Cittá dell'Utopia" including the final cleaning of the house and the garden.
Study Theme: - Study the history of La Città dell'Utopia as a crossing spot between antifascist struggles and volunteering-for-peace activities
Study the history of the neighbourhood
Learn about the recent past and the present of the place and about how volunteering indeed affects the local community
Accommodation: The volunteers will be hosted in the hostel of "La Città dell' Utopia". They will sleep in common (female/male) rooms. There will be provided beds, mattresses, sheets and blankets. The bathrooms will be two and shared by all the volunteers. No towels provided.
Requirements: Interest in antifascism Group working skills Interest in organizing and creating events Artistic and manual skills
Approximate Location: Fiumicino Airport, Ciampino Airport, Termini station, Tiburtina station in Rome
Notes: Notes: This Project is founded by the European Solidarity Corps. Therefore all travel costs will be reimbursed after the workcamp. Food and accommodation are included and pocket money will also be provided to participants during the camp.
---
Camp Photographs