Ban salanam School (Activities with kids at a primary school)
This project is part of the SCI North South Programmes. Volunteers should be 20 years old, have previous volunteering experience and take part in the Preparation Workshops organised by their sending branch. More details from your sending branch.

Topic:
7: Children and youth
Special Topics:
COM_SCIOPS_CAMPS_NO_MORE_WAR_LABEL
Work Types:
Teaching / Work with children / Language study
Free places for Males:
10
Free places for Females:
10
Free places last update:
Oct 25, 2022
International age:
18 - 99
Extra fee to be paid in the hosting country:
9500.00 Thai Baht [279 US Dollar]
Breakdown:
Accommodation and food: 4000.00 Thai Baht
Transportation: 1000.00 Thai Baht
Activities: 2000.00 Thai Baht
Hosting organisation support: 2500 Thai Baht
Purpose of extra costs:
The fee is fixed to 9,000 Baht per person for the 2 weeks. The fee will be used on one part for living expenses (gas, water, electricity, food, transport) and materials used in projects/activities and for the other part to support financially our organization. Volunteers' fee is our only income. We are not funded by any governmental sectors.
Required Language:
English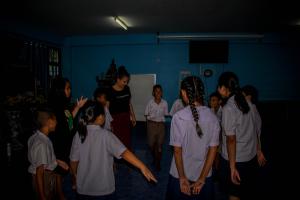 Description: Ban salanam School is a very small school in Banphrao, Papayom district, Phatthalung province, Southern Thailand. The school director, who shares our values, would like to welcome volunteers, to improve English skills for students to be able to communicate in this language. Volunteers can help to organize English lessons or other fun activities with the 118 students from kindergarten to Grade 6 (6-12 years old). The English skills of the students are very poor. They are not familiar with foreigners. You can experience the local way of life, exchange with other volunteers, villagers and support the children education
Type of Work: 1- Give non-formal English classes and other fun activities with the students 2- Create teaching materials for teacher and kids 3- Activities with villagers: cleaning the temple area, sport activities, homemade cooking dessert
Study Theme: Create teaching
Accommodation: Volunteers will sleep in the classroom. There will be simple mats, pillow and mosquito net. You will need to bring your sleeping bag and a small mattress. There are basic toilets, showers and a kitchen at the school canteen.
Language: English will be the language in the camp; intermediate conversational skills are needed.
Requirements: The volunteers should be ready to stay in a local area, to adapt to the local conditions with only basic facilities. Very few local people are able to speak in English. Volunteers should be able to be with the kids and prepare some games and material for teaching.
Approximate Location: Ban salanam School Moo.3 Pa Phayom, Pa Phayom District, Phatthalung 93110