This project is part of the SCI North South Programmes. Volunteers should be 20 years old, have previous volunteering experience and take part in the Preparation Workshops organised by their sending branch. More details from your sending branch.

Topic:
7: Children and youth
Work Types:
Art / Work with children / Language study
Number of places still available:
9
Free places last update:
Dec 22, 2022
International age:
18 - 99
Extra fee to be paid in the hosting country:
9000.00 Thai Baht [264 US Dollar]
Breakdown:
Accommodation and food: 4000.00 Thai Baht
Transportation: 1000.00 Thai Baht
Activities: 2000.00 Thai Baht
Hosting organisation support: 2000 Thai Baht
Purpose of extra costs:
The fee will be used on one part for living expenses (gas, water, electricity, food, transport) and materials used in projects/activities and for the other part to support financially our organization. Volunteers' fee is our only income.
Required Language:
English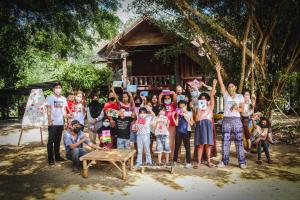 Description: During those 2 weeks, we want to organize 3 children camps at DaLaa Voluntary Service Community in Kok Riang village. Each camp would take 3 days and involve different Thai children from 7 to 13 years old. We will keep 1 or 2 days in between to relax, evaluate, and prepare the next one. The activities and camp's daily life organized by volunteers should be strongly connected with our community values, authenticity, responsibility and inclusion. Besides, they should allow children to be in a harmonious and safe environment. English language is poorly understood by the children, so we'll have to find possibilities to overcome this challenge with the help from our coordinator and Thai volunteers.
Type of Work: In this workcamp, we will combine 3 camps with the 3 groups of children described above. Each camp would last 3 days. We expect the groups of 10-15 children maximum mainly aged from 7 to 13 years old. The children will be sleeping with us and so taking care of daily life which is as important as other activities. We'll have a few DaLaa coordinators, Thai, and foreign volunteers. We expect all of us to be fully active and responsible for the children and planning for activities. One person involved in this camp would need to lead at least one activity for the kids. We will organize some online ideas of preparation before the workcamp start to get an idea of each volunteer skills and proposition. Any idea is welcome from art, sport, games, English language (basic), theatre, cooking, etc.
Study Theme: DaLaa Voluntary Service Community (VSC) is the first door for outsiders to get to know DaLaa organization. The main mission of DaLaa is to coordinate the hosting of volunteers in active communities working for social growth and environmental preservation, mainly in South Thailand, but our drive is also in the action. Through VSC, we involved local volunteers and children in activities that can bring them to our vision: "thriving through authenticity, responsibility and inclusion".
Accommodation: Volunteers will sleep in tents and small huts. There will be simple mats, pillow and mosquito net. You will need to bring your sleeping bag (and a small mattress if you need). There are basic toilets, showers and a kitchen. We will take time to cook.
Language: Children have only very basic knowledge of English. We have Thai volunteers to join.
Requirements: The volunteers should be ready to stay in a local area, and to adapt to the local conditions with only basic facilities. Be prerpared of the kids' poor English skills. Volunteers should be able to be with the kids and prepare some games and materials for activities.
Approximate Location: Volunteers will live in Voluntary Service community, which is situated in a small village, about 20 km from Hat Yai city, South Thailand. It's a very peaceful area.