Topic:
10: Environment protection
Work Types:
Environment / Medical / Work with animals
Number of places still available:
3
Free places last update:
Nov 22, 2022
International age:
18 - 99
Required Language:
Spanish
Motivation letter:
This camp requires an additional motivation letter to explain in more detail why you would like to attend.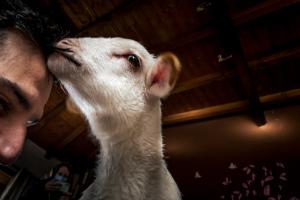 Description: The Animal Sanctuary 'Corazón Verde' was created with the idea of giving an opportunity to animals that have been exploited and objectified. It is a space created to re-establish the dignity of non-human animals and to live with them in a natural environment surrounded by freedom and respect, far from the "productivity" and slavery to which they have been subjected all their lives. 'Corazón Verde' aims to raise awareness among people and wants to re-establish the true natural living environment for animals. We are individuals who hold the belief that all animals deserve to be respected and have the right to live without being exploited regardless of their species.
Type of Work: If you want to participate in this project as a volunteer, it is important that you know the tasks carried out daily. The volunteers are the most asset of the Sanctuary. Without them none of this would be cause that we believe is so fair not only makes us feel fulfilled, but also more human.
What does it mean to be a volunteer?
A volunteer is a person who, in an altruistic and supportive way, by their own choice and motivated by their ideology, intervenes in situations of violation, deprivation, or lack of rights and opportunities of other individuals to achieve a better quality of life.
Study Theme: Animal Rescue and Environment Protection
Accommodation: Accommodation will be provided in a shared studio with other volunteers, if any.
The accommodation has single beds, a bathroom, kitchen, and common areas within the refuge facilities.
Language: Spanish & English
Requirements: -COVID-19: A negative Covid-19 test (PCR or antigen 72h) or a vaccination certificate is mandatory for participation in the workcamp. -Only vegetarian/vegan volunteers -In order to get to know the volunteer better, the hosts will ask for an interview to confirm the volunteer's place once the application has been received.
Approximate Location: Navarra, Spain, Calle Mayor 9
---
Camp Photographs