SEEDS 052. Island of Viðey (2/2)
Topic:
10: Environment protection
Work Types:
Construction / Environment / Restoration, renovation
Free places for Females:
0
Free places last update:
Nov 01, 2022
International age:
18 - 99
Extra fee to be paid in the hosting country:
350.00 Euro [370 US Dollar]
Breakdown:
Accommodation and food: 270.00 Euro
Transportation: 30.00 Euro
Activities: 50.00 Euro
Hosting organisation support: 0 Euro
Purpose of extra costs:
Participation/Extra fees support the ongoing work of SEEDS. For this particular camp, the fees are used for provision of food and accommodation, some extra free time activities & transport from the meeting point.
Required Language:
English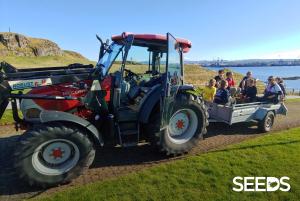 Description: SEEDS volunteers will have the opportunity to work on the historical island of Viðey for the 17th year in a row with our host, the city of Reykjavík. Viðey is a popular destination during the summer among Icelandic and foreign visitors. Volunteers will help prepare the island for the autumn/winter season. Volunteers will beautify the surroundings by cleaning up the area, especially along the coastline, for instance by hand-picking garbage or collecting trash blown by the wind or brought by the sea to the shores and surroundings.
Type of Work: SEEDS volunteers may carry out some gardening activities as well and possibly make and maintain walking paths. Well maintained paths enable people to visit the area without damaging it and this important work also helps to improve safety for visitors. Depending on the advance of the project and weather conditions, volunteers may have other possible tasks such as checking up and repairing garden furniture. The working day normally runs from 09:00 - 17:00 with breaks for lunch and coffee; however, please be prepared for some flexibility due to the nature of Iceland's changeable weather.
Study Theme: The island is only a few hundred metres away from the city and the trip takes a few minutes. This makes Viðey so special; it is a peaceful place, very close to the busy city life of the capital. There are hiking and cycling paths around the island and there is no motor traffic allowed. It also features intriguing sculptural artwork, amongst them all nine pairs of basalt pillars that comprise Richard Serra's work "Áfangar" and Yoko Ono's "Imagine Peace" column, a tower of light. Other places of interest on Viðey are related to archaeological research.
Accommodation: SEEDS volunteers will be lodged in a local house on Viðey Island, in shared rooms. The facilities are equipped with a kitchen, shower, and a washing machine. Everyone is expected to show consideration for their companions. Participants will sleep in shared rooms. Please bring your own sleeping bag. Volunteers will receive food supplies and will be in charge of cooking and cleaning. Please note the food SEEDS provides will be vegetarian. Do not forget to bring some traditional/typical food, drinks, recipes, music, games or movies from your country for the intercultural evening.
Language: English will be the language in the camp; basic conversational skills are needed.
Requirements: Participation fee EUR 350 (Euros). The fee can either be transferred in advance via bank transfer, or paid in cash on arrival. It includes transportation from the meeting point to the camp (on the first day) and a whale watching trip. We will have rides with the ferry during free time; subject to its schedule.
Approximate Location: Viðey or "Wood Island" is the largest (1.7 km²) island in the Kollafjörður Bay, just outside Reykjavík, the capital of Iceland. The island is covered by many species of plants and at least 30 species of breeding birds have been counted here. Viðey was inhabited from soon after the settlement of Iceland already in the 10th century and at the beginning of the 20th century around 100 people lived there. Today the island is uninhabited. There is a regular ferry connection between the island and the harbour of Reykjavík.
Notes: The temperature in late August can drop during the evenings. Volunteers should have motivation to work outside and work in all kinds of weather, as it can get cold and rainy. The working plan is flexible and it will depend on the needs of our host. No previous experience is necessary. Since most of the work will take place outdoors, it is recommended to bring warm and/or waterproof clothes (overcoats, scarves, gloves and hats) walking shoes/boots.
Organization Description: SEEDS is an Icelandic non-governmental, non-profit volunteer organisation designed to promote intercultural understanding, environmental protection and awareness through work on environmental, social and cultural projects within Iceland. SEEDS works closely with local communities, local authorities and other Icelandic associations both to develop projects in partnership, aimed at fulfilling an identified need, and to give assistance to established initiatives. Projects are designed to be mutually beneficial to all involved: the volunteers, the local hosting communities and Iceland as a whole. Every year host more than 1200 international volunteers from 50 to 60 different countries.