LET´S BUILD AN IBERIAN HOUSE - experimental archeaology
Country:
Spain - Catalunya
Topic:
12: Art, culture and local history
Work Types:
Archaeology / Construction / Cultural heritage
Number of places still available:
8
Free places last update:
Jan 20, 2023
International age:
16 - 99
Spoken Language:
Catalan, English, Spanish
Child friendly camp
Yes (Minimum age: 1)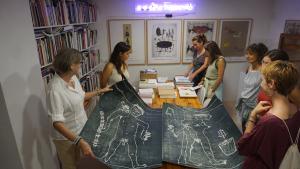 Description: We're witnessing rapid changes in our environment. The protagonists of this change should be locals who should keep it alive and attractive to live in through sustainable land cultivation. In our association we engage in four spaces Culture:ART grew out of our care for culture, to recover the history and heritage of our region Urban environment:We defend responsible and sustainable growth in the Natural Park Territory:We collaborate with hiking centers and we try to protect nature by cultivating natural forests and agriculture Infrastructures:We create good quality infrastructures to prevent the depopulation of region By reconstructing one of houses in Iberian site of Morranda using experimental archaeology you can better understand Iberian world and help to enhance its cultural tourism
Type of Work: The work will be mostly manual and it will consist of the clay construction of a replica house from the Iberian period, using experimental archeology techniques. We have the collaboration of techniques in biodynamic construction and two others in experimental archeology.
Accommodation: Accommodation will be provided in a house of the village Ballestar.
Language: The camp language is in English, but nevertheless knowledge of the local language might be of help for better communication with the locals.
Requirements: No special skills requiered to attend the camp.
Approximate Location: A space close to the village of Ballestar, a small village in the Natural Park of Tinença de Benifassà. Castelló, Comunitat Valenciana
Notes: IMPORTANT Additional Fee: In 2023 many SCI workcamps will have an additional fee of €50.00.
If you apply through an SCI branch the fee will be included in the fee you pay to your sending branch. If you apply through a partner organisation you will have to pay the fee on arrival at the project; direct to the hosting branch or through different payment platforms. When accepted on the project the host branch will give you more details of the various payment options.
Organization Description: SCI Catalunya is the Catalan branch of SCI, one of the 2 SCI branches in Spain. We are based in Barcelona and our working area covers the Catalan countries (including Catalonia, Valencia, the Balearic Islands and Andorra). The other provinces of Spain are covered by SCI Madrid. SCI was founded in 1982 and he organization works on both a global and local level. On the global level, we organize international workcamps in the above mentioned territory Long Term Voluntary Projects (including EVS), trainings and seminars. . On the local level, we work to promote peaceful social transformation of society in order to encourage sustainable human development and a culture of peace, through volunteer groups, involving our community and local networks.

---
Camp Photographs