Lake, Hills and Environment (Sipplingen Lake Constance)
Topic:
10: Environment protection
Work Types:
Environment / Manual / Study, discussion, research
Number of places still available:
0
Free places last update:
Jul 19, 2023
International age:
18 - 26
Required Language:
English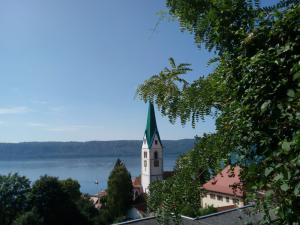 Description: You will assist in the maintenance of a nature reserve while enjoying the magnificent view of Lake Constance. The camp in Sipplingen (near Überlingen), on the shore of Lake Constance, has been organised in cooperation with the regional office for nature and landscape protection for several years now. The territory around Lake Constance is a nature reserve and the landscape around Sipplingen is characterised by steep banks. This area is the habitat of rare and endangered species. It must be maintained regularly in order to preserve the biodiversity and to avoid overgrowth of bushes and trees. Join other volunteers in ensuring that flower loving insects will still find a wide range of these essential field flowers.
Type of Work: Working under the supervision of experts in a slope area: clearing the area by cutting bushes, removing dried wood and branches in a slope area and building a path.
Study Theme: Biotope and species protection, development of the cultural landscape, explanation of flora and fauna
Accommodation: In solid tents directly at Lake Constance, modern sanitary facilities inside a building, you will cook together; possibility to swim in the lake
Language: English
Requirements: Interest in ecological themes, being prepared and ready for physical work outside on a steep slope, good physical condition and safe walking in difficult terrain necessary. Since you will work on a steep slope, work shoes or hiking boots with profile are essential!
Approximate Location: Where is Sipplingen?
Notes: INCOMING FEE for volunteers applying via partner organisations and contacts of SCI: https://sci-d.de/incomingfee
Organization Description: This workcamp is organized by the German branch of Service Civil International (SCI). SCI Germany was founded in 1946 and is approved as a non-profit organisation. We are one of the oldest peace and volunteer organisations. SCI Germany aims to promote peace, non-violence, international solidarity, social justice, sustainable development and cross-cultural exchange through international voluntary work. We cooperate with a network of branches and partners in more than 90 countries. Every year, SCI Germany organizes about 50 international workcamps in Germany.

---
Camp Photographs