Camp code:
JP-NIC 7.230131
Topic:
7: Children and youth
Work Types:
Agriculture / Teaching
Free places for Females:
5
Free places last update:
Feb 08, 2023
International age:
18 - 99
Extra fee to be paid in the hosting country:
225.00 US Dollar
Breakdown:
Accommodation and food: 0.00 US Dollar
Transportation: 0.00 US Dollar
Activities: 0.00 US Dollar
Hosting organisation support: 225 US Dollar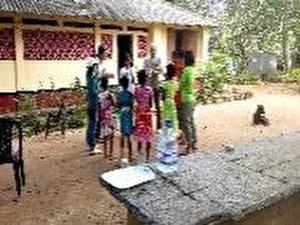 Description: This project is actively working for SDG 2 (Zero Hunger) and SDG 4 (Quality Education), organized together with Green Volunteers for Green Future (GV4GF) since 2012 (first time in this place).This village was rather secluded and werent visited by outsiders, nor the villagers travelled out of the village for many years. Electricity was supplied to this area 15 years ago, but villagers used solar power before that because lots of outsiders, locals and foreigners visited this village to establish domestic solar power plants. And this village was chosen by the companies to run trials, how supply-demand was met etc. Some people even came here to do researches and studies. After finishing their projects everyone left. People returned to their normal life. We got an opportunity to visit this village and share our experiences and memories with them. Then chairman of the village development society asked us to visit village with volunteers while paying special attention on harvesting work and activities with youths and village school.
Type of Work: Basically project consists with two parts. First four days we are supporting to corn harvesting work and second four days we are moving around villages to meet the community, school and youths. At the community you can work with a family, groups of womens or other kind of group such as farmers associations etc., children and youths while sharing your knowledge and experiences. In short, 1. Help farmers to harvest corn 2. Meet and activities with students at village school 3. Activities with youth 4. Support home garden activities.
Accommodation: Volunteers are going to stay at a village house with limited facilities. Electricity, cleaned drinking water, beds, pillows, and toilets without commodes are available. Internet facility is poor but can manage to check your email etc. Main mobile connection such as Dialog and Mobitel are working. Cloths can be wash by hand and can hang outside to dry.
Language: eng,
Requirements: High motivation to work while experiencing different type of life style, accept challenges, adopt to local environment, respect and accept local life and culture.
Approximate Location: very rural area and belongs to dry zone, 191km from Colombo. People mainly depend on agriculture and other seasonal crops. Many lakes can be seen here. Since this place holds a history of civilization running back to several centuries, the Iginimitiya lake, build several centuries ago, had been renovated in 1985 by loan from JICA. This area is based on many historic stories and was the part of the Kurunegala Kingdom. First a temple is built by king and then the population expanded gradually in this area based upon temple. Still ruins are remained as evidence of our ancient prosperity.
---
Camp Photographs