Camp code:
JP-NIC 7.230205
Topic:
7: Children and youth
Work Types:
Work with people with disabilities / Teaching
Free places for Females:
9
Free places last update:
Feb 01, 2023
International age:
18 - 50
Extra fee to be paid in the hosting country:
1000.00 Malaysian Ringgit [235 US Dollar]
Breakdown:
Accommodation and food: 0.00 Malaysian Ringgit
Transportation: 0.00 Malaysian Ringgit
Activities: 0.00 Malaysian Ringgit
Hosting organisation support: 1000 Malaysian Ringgit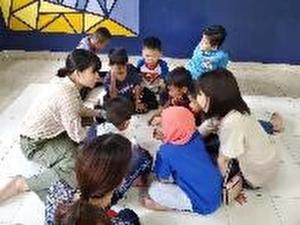 Description: This project is actively working for SDG 4 (Quality Education) and SDGs 10 (Reduced Inequalities), organized together with Malaysian Organization of Volunteer Exchange (MOVE) since 2018 in this place. MOVE is a workcamp NGO founded in 2006, but stopped activities for some years and NICE restarted co-organizing since 2017 Yayasan Chow Kit (YCK) is a non-profit organization that caters to the needs of children in and around Chow Kit. They run two drop-in centers in Chow Kit and one safe home for children who are in need of temporary guardianship. YCK operate in partnership with Ministry of Women and Child Welfare. YCK developed out of Nur Salam and was incorporated in 2011. The past workcamps since 2018 Sep. have been successful, so have decided to be revived after 3 years stop due to the COVID-19
Type of Work: Volunteers will help in guiding student in studies, setting a better environment to enhance a better learning environment. Be ready to provide attentive care from 09:00 to 15:00 on Monday to Friday. It is also important to have nice exchange with several children sleeping in the school building Some group activities will be arranged by the school and teachers.
Accommodation: Volunteers will stay in the school where several children and one staff will also stay together. Meal will be provided. Sleeping bag is necessary.
Language: eng,
Requirements: High motivation to work with the kids and to respect local culture/ way. Experience of similar type of service is welcomed
Approximate Location: The school is located in Chow Kit, Kuala Lumpur. It is located in the city, so you can sometimes enjoy cafE, night market, etc. in the evening (but not till too late).
---
Camp Photographs