Camp code:
JP-NIC 5.230212
Topic:
5: Poverty and social injustice
Free places for Females:
6
Free places last update:
Feb 01, 2023
International age:
18 - 50
Extra fee to be paid in the hosting country:
1000.00 Malaysian Ringgit [235 US Dollar]
Breakdown:
Accommodation and food: 0.00 Malaysian Ringgit
Transportation: 0.00 Malaysian Ringgit
Activities: 0.00 Malaysian Ringgit
Hosting organisation support: 1000 Malaysian Ringgit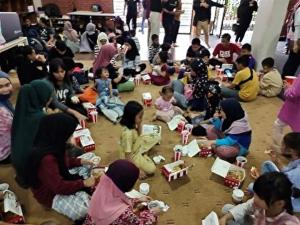 Description: This project is actively working for SDGs 10 (Reduced Inequalities), organized with Malaysian Organization of Volunteer Exchange (MOVE) for the first time in this place. MOVE is a workcamp NGO founded in 2006, but stopped activities for some years and NICE restarted co-organizing since 2017Kebajikan Ar Riqab (Ar Riqab Charity Center, https://arriqabkl.business.site) is a NGO working for the street children, their families and other very poor people who are basically homeless on the street or have only one room. Most of them go to school, but do not have big achievements in education. This group is hardcore poor and depends on donors giving food. Most parents are drug abusers and ex-convicts or currently prisoners.
Type of Work: Volunteers will work in 15:00-21:30, starting in the afternoon by distributing food to the poor at the community center, then move to the place where children gather where Volunteers will play or do activities for the children. Basically, volunteers are free in the morning and busy in the evening.
Accommodation: Volunteers will stay in a flat. No rooms are available, it is just an open area. Attached toilet and shower and small pantry room that is owned by the host. Be ready to have very basic conditions where volunteers can experience how the homeless living in a small room with many people. Sleeping bag is needed.
Language: eng,
Requirements: High motivation to work with the kids and to respect local culture/ way. Experience of similar type of service is welcomed
Approximate Location: Chow Kit, Kuala Lumpur. It is located in the city, so you can sometimes enjoy cafE, night market, etc. in the evening (but not till too late).
---
Camp Photographs