Kudagama School International Summer Camp
This project is part of the SCI North South Programmes. Volunteers should be 20 years old, have previous volunteering experience and take part in the Preparation Workshops organised by their sending branch. More details from your sending branch.

Topic:
7: Children and youth
Work Types:
Work with children / Language study / Restoration, renovation
Number of places still available:
6
Free places last update:
Apr 27, 2023
International age:
18 - 99
Extra fee to be paid in the hosting country:
120.00 Euro [126 US Dollar]
Breakdown:
Accommodation and food: 60.00 Euro
Transportation: 20.00 Euro
Activities: 20.00 Euro
Hosting organisation support: 20 Euro
Spoken Language:
English, French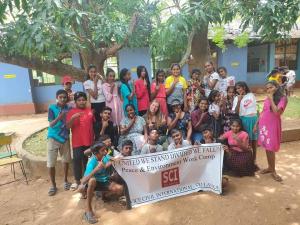 Description: Kudagama fishing village is located on the banks of Rajanganaya tank, one of the biggest reservoirs in Sri Lanka, which is responsible for providing water to cultivate thousands of acres of farmland in the area. The village is home for a fishing community composed by devoted catholic Sinhalese speaking people. On the other side of Kudagama, there is a Telugu speaking community whom was given lands by the government some years ago as a way of settling permanently. The local school receives the children of the village from grade 1 to 11. Host organisation: Inspire Village
Type of Work: The main aim of the camp is to encourage the children of Kudagama village to come to school and study. Thus, volunteers will help to organise educational activities for the children to teach them English, environment preservation, team working... They will also do some manual work in order to create a better learning environment by decorating classrooms, creating an English corner and repairing what needs to.
Study Theme: Some children of the school belong to the Telugu community, which is a minority group of Gypsies in Sri Lanka. As they speak their own language, different from Sinhalese, learning of English is even more difficult for them. Therefore, the camp will be a great opportunity to discuss about minority groups and education in rural areas.
Accommodation: Volunteers will be hosted in a community center right in the village, next to a small church and with a direct vew and access to Rajanganaya tank. Rooms are shared, such as bathroom facilities, and an outside space is available to organise campfires and play volleyball.
Language: The main spoken language during the camp will be English but Sinhalese is the local language and the camp coordinator is French.
Requirements: Volunteers must be interested on working with children and not be afraid of physical work. They also must be able to live with a group, in very simple conditions.
Approximate Location: The village is located 5KM from the main road between Karunagala and Thambuttegama, in Anuradhapura District.
Notes: The camp participation fee is not required from local volunteers who just have to pay the 500 Rs SCI SL membership fee.
Organization Description: SCI Sri Lanka has been organising workcamps and peace-building activities since 1960 as the Sri Lankan branch of SCI international network. Our members are from every part of the island representing different religions and ethnic groups.

---
Camp Photographs