(ESC) Moba - Solidarity in Community and in Coexistence of Wilderness and Civilization
Topic:
10: Environment protection
Work Types:
Construction / Environment / Cultural heritage
Number of places still available:
2
Free places last update:
May 26, 2023
International age:
18 - 30
Spoken Language:
English, French, German, Serbian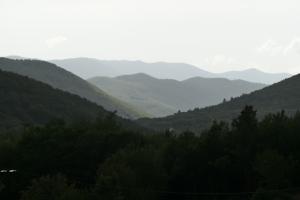 Description: This project is part of a bigger program by VUK about the coexistence of wilderness and civilization, which aims at reactivating traditional local knowledge and different sustainable practices in the sense of moba. "Moba is a reciprocal exchange of labour: the family that invited neighbours, friends and relatives to help assumes the obligation to return that help in the same amount to all participants, if necessary and with an undefined date." During this ESC volunteering team, the main (mostly physical) activities will be around restoring historical water sources for wild animals in the form of a puddle and the typical formation called kamenica in limestone areas as they are characteristic for. The activities will take place on the project ground Belle-Any by VUK, located in Crno Jezero
Type of Work: The volunteers will be involved in physical activities, a creative workshop on felting, a short introduction to permaculture, and researching local flora, fauna, and cultural heritage. Activities will be mostly outside around the renovation of a water pool in the forest, i.e. connected with digging, besides repair work, planting of medicinal herbs and garden work. The work schedule involves six hours a day, divided into three hours in the morning and three hours in the afternoon. Most of the work involves human power and simple equipment, so be prepared to use wheelbarrows and shovels.
Study Theme: Participants will have plenty of possibilities to learn about sustainable living, local traditional heritage, medicinal and edible plants and nature-related topics. Since this project is about rebuilding historical water sources, techniques used will be related to historical building and the volunteers will specifically learn about: History of traditional natural building and different techniques nowadays How to use basic tools Probably much more…
Accommodation: The volunteers will stay in Crno Jezero in a remote house on the neighbouring property of VUK's Belle-Any, 5 minutes away by walking. Sleeping will be possible in the house on mattresses and volunteers should bring their sleeping bags. There are toilets and a shower. On the project ground of Belle-Any there are also compost toilets. Cooking and cleaning will be done in teams and food will be vegetarian, seasonal, local and healthy. Lifestyle is sustainable, simple, and without much technology.
Language: English
Requirements: Volunteers should be OK with the following conditions:
Simple and sustainable living principles (compost toilet, saving water, electricity and other resources, no or less signal)
Vegetarian and healthy food
Sharing space with other volunteers
Teamwork and physical work
Living in a remote area without shops, pubs or similar
Approximate Location: Belle-Any is located in a small village, Crno Jezero, about 10 km from the village Kuterevo, in which VUK's bear refuge is located. In Crno Jezero there is no shop, pub or public transfer. The wilderness of the forest is surrounding Belle-Any and Crno Jezero.
---
Camp Photographs