Summer activities with children at the Don Bosco Youth Center in Brussels
Topic:
7: Children and youth
Work Types:
Work with children / Social / Sport
Number of places still available:
2
Free places last update:
Jul 03, 2023
International age:
18 - 99
Required Language:
French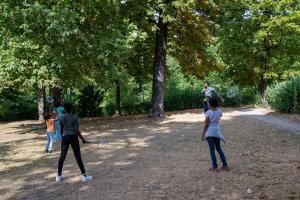 Description: "Don Bosco Télé Services" is a youth center located in a working-class district in Brussels, which organizes different types of activities throughout the year (creative workshops, school support, sport activities…) for children and youngsters coming from this district, mostly from immigrant origins. The children/youngsters that participate in this center's activities are between 6 and 12 years old.
Type of Work: Working days will start at 09:30 with a preparation meeting with the Don Bosco animation team. Then, depending on the day, you will do animation activities (creative activities, sports, cooking) or day trips with the children. The activities end at 17:00. Be aware that the activities can be very busy and quite tiring.
Study Theme: Immigration and inclusion in Belgium.
Accommodation: Group accommodation in Don Bosco's building. Simple sleeping areas with mattresses available, however you need to bring your own sleeping bag and a pillow.
Language: The language of the project is French. Good knowledge of French is COMPULSORY so that you can communicate with the children and prepare the activities with the staff.
Requirements: The application form must be filled out in FRENCH. An interview in order to check the level of French language of the volunteers can be done by a staff member of SCI Belgium. Experience in entertaining children groups and creativity are assets. Volunteers must arrive on the first day of the project, respect punctuality and follow the rules of the center (set a good example for the children).
Approximate Location: Downtown Brussels
Notes: Additional fee: Many SCI workcamps will have an additional fee of €50.00. This will cover - local hosting costs; International insurance costs of the volunteer; a small travel fund to enable disadvantaged volunteers to join projects; administration costs of SCI International. If you apply through an SCI branch, the fee will be included in the fee you pay to your sending branch. If you apply through a partner organisation you will pay the fee on arrival at the project; direct to the hosting branch or through a PayPal transfer system. When accepted on the project the host branch will give you more details of the various payment options.
---
Camp Photographs