Discover permaculture and participate in a children summercamp in a sustainable way
Topic:
11: Climate and sustainable lifestyle
Work Types:
Agriculture / Environment / Work with children
Number of places still available:
0
Free places last update:
Jun 20, 2023
International age:
18 - 99
Required Language:
English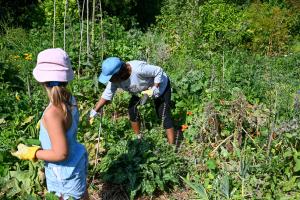 Description: "Les Amis du Village" in Beauvechain is above all, a place of discovery and exchange of the principles of permaculture, well-being and creativity. This citizen initiative, led by a couple and their relatives, offers internships, training and workshops to people who may wish to discover gardening techniques, food preservation or mushroom cultivation in a spirit of individual and group creativity. Locally rooted and set in a green scenery, "Les Aamis du Village" aims to strengthen ties with locals while inviting volunteers from all places to join their experience. There are a variety of activities in which volunteers are invited to participate: yoga, meditation, music (volunteers are invited to bring their own instruments), and crafts.
Type of Work: Throughout the project, volunteers will work in the vegetable garden and carry out various tasks (harvesting, cleaning, composting, sowing, planting, cooking, preserving...) and work also mainly in the renovation of a building with clay and other natural materials (straw). The second week a Crea-nature workshop for children (6-12 years) will take place. The place also hosts summer internships and volunteers will be asked to create animations, playful workshops for them, in small groups and according to the spirit of the place. The last weekend there will be an "Open House" in collaboration with 2 other permaculture places in the region. Volunteers will help set up the event and assist in some of the tasks (animations, bar...) and will also be able to visit the partners' projects.
Study Theme: Permaculture, adobe (cob), children's entertainment activities.
Accommodation: The volunteers will sleep in tents (bring your own mattress and sleeping bag). There are a few tents available but the volunteers who have one are invited to bring it. The living conditions will be rudimentary (a solar shower and dry toilets). The volunteers will cook for themselves and will have access to the vegetables from the vegetable garden. The food will be exclusively vegetarian, local, organic and seasonal. There will be a few bikes available to get around (Volunteers with bicycles are encouraged to bring them to the project, if possible).
Language: English. Knowledge of French is welcome in order to interact with the locals and the children during the summercamp.
Requirements: This project is for volunteers who want to discover the philosophy/spirit, practical applications and techniques of permaculture as well as a lifestyle aimed at food self-sufficiency. They must also have an interest in entertaining children. It is essential that volunteers are fully involved in all the activities proposed.
Approximate Location: Village of Beauvechain, Brabant Wallon, Belgium.
Notes: Additional fee: Many SCI workcamps will have an additional fee of €50.00. This will cover - local hosting costs; International insurance costs of the volunteer; a small travel fund to enable disadvantaged volunteers to join projects; administration costs of SCI International. If you apply through an SCI branch, the fee will be included in the fee you pay to your sending branch. If you apply through a partner organisation you will pay the fee on arrival at the project; direct to the hosting branch or through a PayPal transfer system. When accepted on the project the host branch will give you more details of the various payment options.
---
Camp Photographs