Country:
Spain - Catalunya
Topic:
10: Environment protection
Work Types:
Construction / Environment / Manual
Number of places still available:
1
Free places last update:
Jul 07, 2023
International age:
18 - 99
Required Language:
English
Spoken Language:
Catalan, Spanish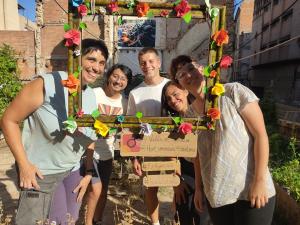 Description: Can Pipirimosca is an ecological farm where agriculture, far from being the main objective, is the means that allows the organization of cultural and associative activities. From the operation as a farm, a production is obtained that allows self-sufficiency and the possibility of making a sustainable lifestyle and consistent with the environment where exchange, multiculturalism, coexistence, personal growth and education in values are the ultimate goals. Proposal at Can Pipirimosca is simple lifestyle, activism and learn to use what you have which might be a challenge.
Type of Work: You will have an experience deeply ecological meaning zero waste, sustainable food (nearly vegan), no coffee, no WiFi, no running water but solar showers and compost toilet etc. The main project will be to help in the maintenance of a shed next to the house which will be the space where courses, workshops will be held. You should be advised that the work to be done will be mostly physical.
Study Theme: Deep ecology
Accommodation: The accommodation will be at Can Pipirimosa, a house of rural coexistence, designed for travelers, not for tourists. A space open to everyone who wants to share, learn and teach. A place of contact with nature, the arts, music, theater, dance. A particular way of understanding coexistence, exchange and personal growth.
Language: English, Catalan, Spanish
Approximate Location: Can Pipirimosca
Notes: IMPORTANT Additional Fee: In 2023 many SCI workcamps will have an additional fee of €50.00.
If you apply through an SCI branch the fee will be included in the fee you pay to your sending branch. If you apply through a partner organisation you will have to pay the fee on arrival at the project; direct to the hosting branch or through different payment platforms. When accepted on the project the host branch will give you more details of the various payment options.
Organization Description: SCI Catalunya is the Catalan branch of SCI, one of the 2 SCI branches in Spain. We are based in Barcelona and our working area covers the Catalan countries (including Catalonia, Valencia, the Balearic Islands and Andorra). The other provinces of Spain are covered by SCI Madrid. SCI was founded in 1982 and he organization works on both a global and local level. On the global level, we organize international workcamps in the above mentioned territory Long Term Voluntary Projects (including EVS), trainings and seminars. . On the local level, we work to promote peaceful social transformation of society in order to encourage sustainable human development and a culture of peace, through volunteer groups, involving our community and local networks.

---
Camp Photographs