Topic:
10: Environment protection
Work Types:
Construction / Environment / Manual
Free places for Females:
0
Free places last update:
Jun 29, 2023
International age:
18 - 27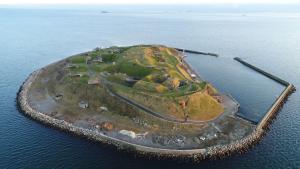 Description: UngdomsEen (aka Youth Island) is an island located just a short ferry ride from Copenhagen. UngdomsEens mission is to strengthen young people in their journey to become active, committed, and curious citizens who take responsibility for each other, for their communities, and for the development of our societies. The island is an old sea fortress full of places to hide and get lost. In 2015 it was acquired and donated to the Danish scout movement. With major help from foundations and after 4 years of renovation, 130 million DKK and 70.000 hours of voluntary work, UngdomsEen opened in August 2019 and is now invaded by the youth. UngdomsEen has an area of 50,000 m2. Inside the island there is more than 16,000 m2 and 1.8 km of underground pathways, so even though the island may seem small from the distance there is plenty of space for activities and expeditions. All of our actions at UngdomsEen are based on our vision: To be an Island for the youth. Everything we do on the Island aims at creating an inviting environment/project for, with and by young people. Your main contacts will be two young volunteers, Leander and amp; Kristian, who have lived on the Island since august 2022. If you want to know more about the Island and our visions, check out: https://nordeafonden.dk/about-nordea-fonden/the-youth- island-in-rsund (English)
Type of Work: You will actively contribute to renovating and creating an inviting and exciting environment on the Island. As stated, this is an Island for the youth, which is why this Work Camp will focus on projects that aim at building, renovating, and fixing e.g., nice outdoor facilities (e.g., a pizza oven, outdoor kitchen, lounge furniture) and helping the operations team with projects. We will be ready to help and guide you throughout the camp, so there are no expectations of your previous practical experience. The most important thing is that you want to join us in creating the best possible place for the youth to hang out and realize their dreams. At UngdomsEen we value the environment, so we will do our very best effort to make sure that we build sustainably and environmentally friendly through and through. UngdomsEen is a place full of potential and opportunities. A place to hang out, do activities, and create encounters between young people of all kinds. It is of utmost importance, that we create the most awesome environment from where awesome projects can arise.
Accommodation: Accommodation: You will be sleeping in one of our two 10-person dormitories, but it will also be possible for you to either sleep in a tent or in a shelter if you prefer (you should be ready to share the shelter with others from the Work Camp). We have tents, mattresses, and sleeping bags, that are available if you want to sleep outdoors. If you want to sleep in the dormitories, you must bring your own linen. We will provide a mattress, duvet, and pillow. Bathroom facilities: There are lots of new restrooms and baths and there is a washing machine at your disposal. Kitchen facilities: We will be cooking together in smaller teams in our communal kitchen. Do you have any allergies or preferences, just let us know before arrival. In addition, two times a week a small group of us will sail to Copenhagen to do grocery shopping (paid for by the Youth Island) WIFI is available.
Language: eng,
Requirements: English will be the only language spoken. All participants must be willing to speak English, even though being from the same country or have trouble with the English language. Try your best
Approximate Location: You are going to spend your off-time on the Island; thus, we will be planning some social activities like kayaking, stand-up- paddle-boarding, campfires, and day trips to Copenhagen.
---
Camp Photographs