Recovery of old roads and dry stone building in an unusual valley in Pyrenees
Country:
Spain - Catalunya
Topic:
12: Art, culture and local history
Work Types:
Environment / Manual / Restoration, renovation
Number of places still available:
0
Free places last update:
Sep 07, 2023
International age:
16 - 99
Required Language:
English
Spoken Language:
Catalan, Spanish
Child friendly camp
Yes (Minimum age: 0)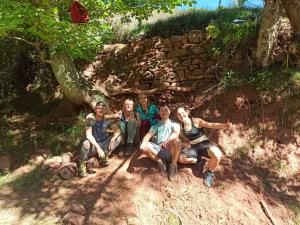 Description: This year, the Vall de Siarb shelter will host a camp on territorial conservation. The group of participants will collaborate in the cleaning and recontruction of the old rural roads of the valley, collaborating with the Road Museum project that was created by the entity. Participants will be able to enjoy a unique natural environment in the valley of the High Pyrenees.
Type of Work: We will be working on restoring and improving old roads: cleaning paths, rebuilding dry stone walls, placing stones and improving trail marks with paint. We will spend the working hours (4 hours/day) in nature, surrounded by forests, fields, etc. The work is mostly manual and physical.
Study Theme: Getting to know the territory, construction techniques of dry stone walls, problems of tourism in the area, guide to birds and plants of the Vall de Siarb.
Accommodation: You will sleep in common rooms with bunk beds. There are gonna be spaces for you to store your stuff. You also will have two bathrooms and showers with warm water.
Requirements: Specific knowledge on the subject is not necessary, but it is recommended to have an interest in the recovery of the heritage, nature and the discovery of new areas. Hiking lovers welcome!
Approximate Location: Refugi Vall de Siarb, Vall de Siarb
Notes: IMPORTANT Additional Fee: In 2023 many SCI workcamps will have an additional fee of €50.00.
If you apply through an SCI branch the fee will be included in the fee you pay to your sending branch. If you apply through a partner organisation you will have to pay the fee on arrival at the project; direct to the hosting branch or through different payment platforms. When accepted on the project the host branch will give you more details of the various payment options.
Organization Description: SCI Catalunya is the Catalan branch of SCI, one of the 2 SCI branches in Spain. We are based in Barcelona and our working area covers the Catalan countries (including Catalonia, Valencia, the Balearic Islands and Andorra). The other provinces of Spain are covered by SCI Madrid. SCI was founded in 1982 and he organization works on both a global and local level. On the global level, we organize international workcamps in the above mentioned territory Long Term Voluntary Projects (including EVS), trainings and seminars. . On the local level, we work to promote peaceful social transformation of society in order to encourage sustainable human development and a culture of peace, through volunteer groups, involving our community and local networks.

---
Camp Photographs