Where People and Farm Animals Live in Harmony (Alfter near Bonn)
Topic:
10: Environment protection
Work Types:
Agriculture / Environment / Work with animals
Number of places still available:
11
Free places last update:
Jun 07, 2023
International age:
18 - 99
Required Language:
English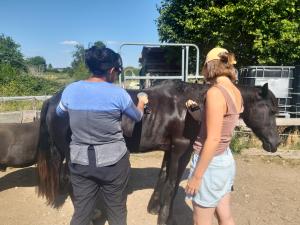 Description: Building paddock trails, getting muscles, looking after animals. Around the year, school classes, children's groups and families come to the 'Stallgespräch', an -encounter and educational project – set on a farm with animals, garden and fields to work there. By feeding the animals and observing them, knowledge and skills in dealing with different species of animals are learned. In doing so, the visitors should develop respect towards these living beings. The animals are carefully accustomed to the encounter with the people and deployed within their possibilities and abilities. The project also offers the visitors the opportunity to plant, harvest and and thus contributes to raise awar-ness of sustainable agrarian- and food culture as well as the appreciation of healthy food.
Type of Work: Building a new horse paddock trail, making holes for the fence poles, setting fences, attaching cables, sawing trees, laying panels; everything to make the horses feel good all around. Taking care of the animals (chickens, sheep, dogs, horses, cats, rabbits, guinea pigs) and support in organic gardening.
Study Theme: Species-appropriate animal husbandry; animal-assisted therapy; organic farming; solidarity farming During leisure: possibility of excursions to Cologne and Bonn; hiking in the Siebengebirge (Seven Hills Region); Rhine cruises; swimming in a nearby outdoor pool
For further information on the project please see
Accommodation: In tents (please bring a tent, camping mat and a thick sleeping bag); shower, toilet, shared kitchen available. Cooking together in the group
Language: English
Requirements: Willing to do physically hard work, Interest in species-appropriate animal husbandry and organic farming; friendly handling of animals; interest in manual labor; technical skills helpful
Approximate Location: The farm is located in the small but very lively town of Alfter between the major cities of Cologne and Bonn.
Notes: INCOMING FEE for volunteers applying via partner organisations and contacts of SCI: https://sci-d.de/incomingfee
Organization Description: This workcamp is organized by the German branch of Service Civil International (SCI). SCI Germany was founded in 1946 and is approved as a non-profit organisation. We are one of the oldest peace and volunteer organisations. SCI Germany aims to promote peace, non-violence, international solidarity, social justice, sustainable development and cross-cultural exchange through international voluntary work. We cooperate with a network of branches and partners in more than 90 countries. Every year, SCI Germany organizes about 50 international workcamps in Germany.

---
Camp Photographs