Organise a neighbourhood event with socially engaged designers in Brussels!
Topic:
11: Climate and sustainable lifestyle
Work Types:
Art / Restoration, renovation / Social
Number of places still available:
0
Free places last update:
Sep 06, 2023
International age:
20 - 99
Required Language:
French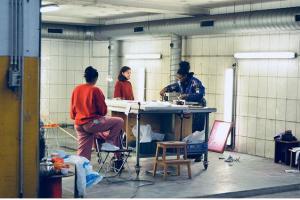 Description: Gilbard is a collective of artists/designers created around a public upcycling project, open since spring 2019 in Anderlecht: a place for exchanging and reusing materials through a point system. The non-profit organization collects, organizes, reconditions and exchanges construction/creation materials (wood, metal, fabric, paper, paint, etc.) to develop and help develop cultural and artistic projects in the Brussels region. Gilbard is also a local meeting point (shared workshops, informal training and neighborhood events).
Type of Work: During the car-free day in Brussels on 17th september, Gilbard is organizing an event in front of its office/workplace at rue de Liverpool 77 in Anderlecht. The project consists in preparing this event during the week, according to the wishes of the volunteers and the needs of the day (final preparations, greeting the public, meals, performances, entertainment, scenography). On the day of the event, volunteers will participate in various workshops and entertainment stands for children and adults in the neighborhood. For 6 hours a day, the volunteers will be dispatched on missions/tasks with all the people involved (logistics, organization) until the D-Day.
Study Theme: - Propose other ways of occupying the public space
Act locally, and in partnership with places, neighborhoods, people and local projects
Highlight non-monetary exchange systems
Adapt construction/creation methodologies to reuse
Discover resilient art forms rooted in social/collective life
Accommodation: No accommodation. Meals will be provided by the partner (vegetarian option available).
Language: French and English. Gilbard members also speak other languages such as Spanish, Portuguese and German.
Requirements: No requirements except motivation and an interest in the missions of the organization (recovering/upcycling materials, neighborhood projects, DIY, collective management)
Approximate Location: Brussels Capital Region – Rue de Liverpool 77 1070 Anderlecht
Notes: Additional fee: Many SCI workcamps will have an additional fee of €50.00. This will cover - local hosting costs; International insurance costs of the volunteer; a small travel fund to enable disadvantaged volunteers to join projects; administration costs of SCI International. If you apply through an SCI branch, the fee will be included in the fee you pay to your sending branch. If you apply through a partner organisation you will pay the fee on arrival at the project; direct to the hosting branch or through a PayPal transfer system. When accepted on the project the host branch will give you more details of the various payment options.
---
Camp Photographs