Topic:
12: Art, culture and local history
Work Types:
Art / Cultural heritage
Number of places still available:
4
Free places last update:
May 11, 2023
International age:
18 - 99
Extra fee to be paid in the hosting country:
100.00 Swiss Franc [110 US Dollar]
Breakdown:
Accommodation and food: 0.00 Swiss Franc
Transportation: 0.00 Swiss Franc
Activities: 100.00 Swiss Franc
Hosting organisation support: 0 Swiss Franc
Purpose of extra costs:
Please be aware that there is an extra fee to cover the cost of materials used during the workcamp. Volunteers will work with different materials such as pencils, brushes, pens, painting colour, canvases, etc. The extra fee is 100 CHF (or 100 Euros) per volunteer. Volunteers have to pay the extra fee in cash to the workcamp hosting partner on site.
Required Language:
English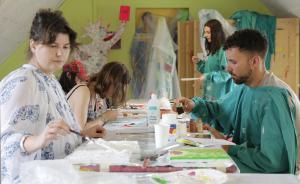 Description: The "Creative Workshop" (Atelier "Kreativ-Werkstatt"), which is to be understood as an art space, is open to young artists, teachers, children, young people, and others interested. It offers users various opportunities to develop their creative skills. People should be able to meet and exchange ideas in an unconventional way that is neither consumption- nor profit-oriented, and be encouraged to spend their time in a meaningful way. The "Creative Workshop" works in a project-oriented way and involves the participants in planning and implementing events and activities. The "Creative Workshop" and Gabriella Affolter, who is in charge of the project were awarded several times.
Type of Work: During 10 days young people work on intercultural written images. Together, the young people create small-format wedge frames with the material available. Using a brush, pen, pencil or other tools and natural material, the young people will write their own short texts, poems, word collages, etc. or those of writers on the canvases to be created. In case you are a culturally creative, work in this field or have experience, you would like to share with the other volunteers, please get in touch with the workcamp hosting partner before the workcamp. This workcamp is the perfect opportunity to learn about arts, your creativity and yourself!
Study Theme: During workshop discussions you deal with political, social and artistic questions. The study theme also depends on your interests, feel free to make suggestions.
Accommodation: The group accommodation (Scout House) is located near the forest, but close to the city. There are mattresses and sheets available (but no beds) in two big rooms. Sleeping bags and pillows should be brought personally for hygiene reasons. There are toilets and showers. There is no washing machine and no wifi. The campcoordinator will buy the food for the participants. The participants cook and clean themselves. Food can be obtained from regional and sustainable resources. We recommend you to limit your meat consumption, so as to contribute to the camp's principle of sustainability.
Language: The communication among the international volunteers happens in English. As some local people will join, also German might be used.
Requirements: INCOMING/ADDITIONAL FEE for volunteers applying via Partner organisations & Contacts of SCI: https://scich.org/en/incoming-fee/
Notes: What to bring? Good shoes, sleeping bag, pillow, swimming costume, old clothes (we will paint), bath towel, toiletries, insurance card, possible texts (own or literary texts).
Organization Description: SCI Switzerland is a non-profit organisation which promotes intercultural exchange, sustainable development and non-violent conflict resolution. It has been organising workcamps and long-term exchanges for volunteers worldwide since 1920. Each year more than 100 volunteers from Switzerland engage in SCI projects abroad, while around 200 international volunteers participate in projects in Switzerland. SCI Switzerland is certified by the Intermundo quality label, which guarantees high quality standards in youth exchange. Swiss workcamps are mainly focused on the work with youth as well as in the area of environmental protection. That is why among SCI Switzerland`s values is also an environmentally friendly lifestyle in accordance with the ideas of sustainable development. Volunteers are encouraged to be eco-friendly, especially when travelling to Switzerland and during the projects. Before applying be aware of high travel costs within Switzerland and check prices on the railway website www.sbb.ch. A participation in the camp from the first until the last day is needed for reason of instruction and group dynamic.

---
Camp Photographs