Boquen community life and restoration in Brittany
Topic:
12: Art, culture and local history
Work Types:
Construction / Restoration, renovation
Number of places still available:
8
International age:
18 - 99
Spoken Language:
English, French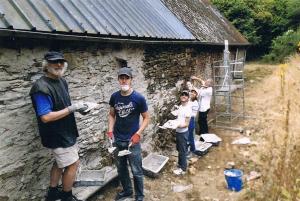 Description: The Cultural Association of Boquen organizes meetings in different places on social themes and concerns that challenge us. Secular and independent from denominations in its approach, the association is enriched by philosophical reflections and great spiritual traditions.
Type of Work: 1- Repair of an old well 2- Fitting out the meeting room so that it can be used by association from neighboring villages during the winter : peinting the ceiling and the bottom of the outside wall 3- Lime pointing of old stone walls
Accommodation: You will be accommodated in a dormitory. Therefore, you must bring your sleeping bag and a pillow case with you. There are showers, toilets, a living room and a kitchen. Be aware that the location is quite isolated, there is not always cellphone service and wifi.
The food will be prepared by the volunteers with the local members of the association.
Requirements: Bring warm and light clothes but also a hat and rain gear.
Walking shoes can be ideal for your free time visits, and a bathing suit for a weekend at the sea.
You must bring work gloves, the rest of the equipment will be provided.
Approximate Location: Location of the worksite: Cultural Association of Boquen in Saint-Mayeux in Brittany.
Organization Description: La branche française du mouvement, créée en 1936 et actuellement à Lille.