Renovate this Seminar House! (Buchholz near Hamburg)
Topic:
1: Antiracism, antifascism, remembrance
Work Types:
Construction / Manual / Peace
Number of places still available:
0
Free places last update:
Aug 10, 2023
International age:
18 - 99
Required Language:
English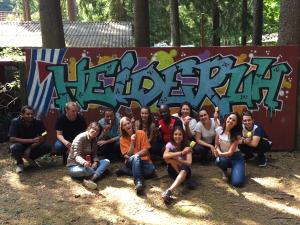 Description: In 1945, the recreation and meeting place "Heideruh" was built by the political persecutees of National Socialism, e.g. for children whose parents were persecuted, lived underground, were imprisoned in concentration camps or were murdered. Relatives, survivors and friends in-vested a lot of time and energy to build and maintain this site. To this day, Heideruh serves primarily as a place of recreation and encounter for people who speak out against fascist ide-ology and who stand up for peace and a more just society. Like-minded people from several generations often meet here. Currently, the aim is to make Heideruh attractive for younger people. It is important to prepare for the time when there are no more witnesses of fascism.
Type of Work: In recent years, Heideruh has been hit hard by storms. Many trees fell and destroyed, among other things, parts of the barefoot path and the generation playground, both built by previous SCI workcamps. These shall be repaired. In addition, a new wooden house with a room for meetings of young people is being built this year. The camp is helping with this. The work will be mainly with wood. There will be opportunities for everyone to learn how to work with woodworking machines under supervision.
Study Theme: The study part will deal with the history of World War II, but also with questions about war and peace today. There will be a visit to the Neuengamme concentration camp memorial in Hamburg, partly organised by the Auschwitz Committee, and also discussions about the history and current political situation in the participants' countries of origin. The topic of peace, also in today's world, will be a central theme. Part of the group will document the course of the work camp and decide whether to use it as an internal work camp diary or also for social media.
Accommodation: Directly in Heideruh in double or single rooms. Those who wish can also sleep in a tent. Tents and equipment can be provided. Catering by the kitchen/canteen of Heideruh. Meat, vegetar-ian and vegan meals are possible. Heideruh also has a small bar where you can get various drinks, sweets and nibbles at a reasonable price.
Language: The camp language will be English. In Heideruh, many staff and guests speak German, so it is easy to learn or improve your German. Other languages (Spanish, Polish, Arabic, etc.) are also spoken.
Requirements: Interest in the topics of peace and anti-fascism. Consideration for older people, because many of the guests in Heideruh are already older. Desire for manageable building and thinking projects.
Approximate Location: The small town of Buchholz is located in the north-west of the Federal Republic of Germany, about 40 km south of Hamburg on the Hamburg-Bremen railway line. Heideruh is picturesquely situated in the beautiful nature of northern Germany. The special landscape of the Lüneburg Heath can be easily reached on foot via hiking trails in the forest. Excursions to the large cities of Hamburg and Bremen are possible. There are many leisure activities, museums and sights there, from the port of Hamburg to the Bremen Town Musicians.
Notes: INCOMING FEE for volunteers applying via partner organisations and contacts of SCI: https://sci-d.de/incomingfee
Organization Description: This workcamp is organized by the German branch of Service Civil International (SCI). SCI Germany was founded in 1946 and is approved as a non-profit organisation. We are one of the oldest peace and volunteer organisations. SCI Germany aims to promote peace, non-violence, international solidarity, social justice, sustainable development and cross-cultural exchange through international voluntary work. We cooperate with a network of branches and partners in more than 90 countries. Every year, SCI Germany organizes about 50 international workcamps in Germany.

---
Camp Photographs