Storholmen Viking Village
Topic:
12: Art, culture and local history
Work Types:
Archaeology / Cultural heritage / Work with children
Number of places still available:
0
Free places last update:
Jul 11, 2023
International age:
18 - 99
Required Language:
English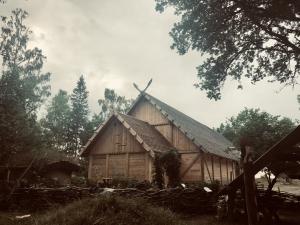 Description: When you mention the word 'Viking' to anyone they will conjure up images of fierce warriors burning and slaughtering their way across Europe. But the Vikings had more sides to their nature, which is shown at Storholmen Viking Village, situated north of Sweden's capital city Stockholm. Visitors are encouraged to take part in activities that demonstrate how everyday life was led in the Viking Age.
In Storholmen the Viking age never ends. Therefore, we try to keep the Viking age spirit which means we wear Viking age clothes during all times in the Village and avoid modern technology in open spaces. This creates a fantastic atmosphere!
Type of Work: Work includes guiding visitors, showing/working with ancient handicraft and working in café. This will include activities with children. Thus it is a big advantage if the volunteers enjoy working with children.
First four days are dedicated to learning the job so that you are comfortable when you start. No prerequisite knowledge is needed.
You will be working together with 40-50 other Vikings and you will be provided Viking clothes to wear at all times.
Study Theme: Historical links and similarities. Storholmen is an archaeological open air museum. Our goal is to give an intriguing insight in the everyday life of Viking Age. We want people of all ages to get the opportunity to try Viking age handicraft, games, listen to storytelling and be part of everything that takes place, and not merely be observers. To give visitors an interest for history, give a nuanced picture of Viking age, and work against prejudices, are what we see as some of our most important tasks.
Accommodation: You all live together in Viking tents inside the museum (Viking Village). Please bring a sleeping mat and sleeping bag.
You will be living together with 40-50 other Vikings (6-10 per tent) and you will be provided Viking clothes to wear at all times.
Language: A basic level of Swedish could be useful in interaction with the museums visitors, but it is not at all an requirement.
Requirements: Good English to be able to communicate with the other volunteers and the visitors.
Approximate Location: The Viking village is located about one hour north of Stockholm in the small village of Svanberga.
---
Camp Photographs