Topic:
13: Community life
Work Types:
Work with children / Manual / Social
Number of places still available:
0
Free places last update:
Jun 21, 2023
International age:
18 - 99
Required Language:
English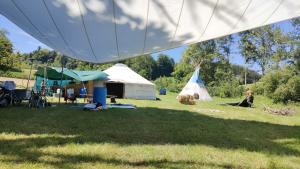 Description: The circle camp exists since 2013, takes place every summer on a ground of a farmer and is organised by a group of people who is interested in nature-based community life. This year it is the first time there is a cooperation with SCI Switzerland. We live for a few weeks in tents in a beautiful place in nature on a farmer's land. About 25 people take part in the camp, most of them with children, and we cherish a respectful community-life and circle culture with each other as well as live with only the most necessary and simple. Together we prepare the food, sing, observe animals, sleep under the open sky, do handcrafts and much more. Regular talking circles and similar forms are an important part of the camp. Spirituality has its place but is not directly in the foreground.
Type of Work: When you arrive the circle camp will already be set up. You will be assisting in the kitchen, fetch water, collect firewood, help to keep the camp in proper order, support in the organisation and implementation of the activities for children (e.g.: handicrafts, movement games, storytelling) and take care of children (childcare only for the volunteers who have experience in this field). You will be able to work mainly in the areas that you enjoy. In the morning there is always a morning-circle where all the camp participants sit down together and share their individual plans for the day (e.g. tasks as cooking lunch & dinner will be divided). There are other talking circles and activities planned, where you are welcome, but it is not mandatory to join.
Study Theme: Talk about the concept of circle camps and explanation about vision quest and short vision quest for those interested in the topic. It is not mandatory to participate in any (short) vision quest. Volunteers will learn about wild herbs and learn skills such as how to carve a spoon or bowl from wood.
Accommodation: You will sleep in camping tents (not yurts) on the site (4 tents with a capacity of two people each will be provided). In case you prefer to sleep alone in a tent you should bring your own tent. There is an outside compost toilet and an outside shower (it can be that the water is sometimes not pleasant warm, but it should also not be ice cold). An outdoor bathroom will be set up by the nearby stream. There is no washing machine. Internet access can probably be arranged once a week nearby the circle camp. Be prepared to spend the workcamp without any or only little internet access.
Language: Camp language for SCI Volunteers is English (most of the parents and the workcamp hosting partner speak English). Local language is Swiss German. Spoken languages at the camp site are German, Swiss German, English and some Spanish. There will always be translation in case the other participants from the circle camp do not speak English.
Requirements: Teamplayer, enthusiastic, curious (to do something you have never done before), motivated to involve yourself in the group process, outdoor approved (able to leave the comfort zone) & like to work with children. Nice to have: scout skills, basic outdoor cooking skills, sing circle song or play instruments, ability to improvise (sketches, theatre, clowning).
Notes: Please bring a camping mattress, sleeping bag and if needed a pillow. Warm clothes for the night, working clothes, rain gear, bathing clothes, good and sturdy shoes (hiking boots) and a torch are necessary.
Max. 2 minor volunteers can be accepted.
Ecological lifestyle: Participants and volunteers are asked to respect the ground of the farmer, nature in general and the farmer. There will be vegetarian and partly vegan food. Strictly no alcohol and drug use is allowed on the site! There will be some local volunteers too.
During the workcamp there will once be a day-trip to a lake or mountain nearby.
INCOMING/ADDITIONAL FEE for volunteers applying via Partner organisations & Contacts of SCI: https://scich.org/en/incoming-fee/
Organization Description: SCI Switzerland is a non-profit organisation which promotes intercultural exchange, sustainable development and non-violent conflict resolution. It has been organising workcamps and long-term exchanges for volunteers worldwide since 1920. Each year more than 100 volunteers from Switzerland engage in SCI projects abroad, while around 200 international volunteers participate in projects in Switzerland. SCI Switzerland is certified by the Intermundo quality label, which guarantees high quality standards in youth exchange. Swiss workcamps are mainly focused on the work with youth as well as in the area of environmental protection. That is why among SCI Switzerland`s values is also an environmentally friendly lifestyle in accordance with the ideas of sustainable development. Volunteers are encouraged to be eco-friendly, especially when travelling to Switzerland and during the projects. Before applying be aware of high travel costs within Switzerland and check prices on the railway website www.sbb.ch. A participation in the camp from the first until the last day is needed for reason of instruction and group dynamic.

---
Camp Photographs