Christmas in Palestine: Priceless Experience
This project is part of the SCI North South Programmes. Volunteers should be 20 years old, have previous volunteering experience and take part in the Preparation Workshops organised by their sending branch. More details from your sending branch.

Country:
Palestinian Territory, Occupied
Topic:
3: International solidarity
Work Types:
Cultural heritage / Manual / Social
Number of places still available:
16
Free places last update:
Aug 24, 2023
International age:
20 - 99
Extra fee to be paid in the hosting country:
300.00 Euro [324 US Dollar]
Breakdown:
Accommodation and food: 0.00 Euro
Transportation: 0.00 Euro
Activities: 0.00 Euro
Hosting organisation support: 300 Euro
Required Language:
English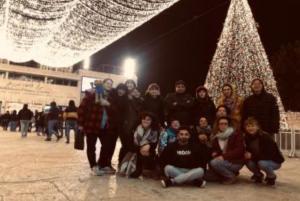 Description: The project seeks to bring young people from various cultures together to build cultural bridges of understanding, reconciliation and global peace. The long-term goal of project is to prepare youth to make positive contributions to society through the values of global understanding, helping, contributing tolerance, and respectful global coexistence and building on common grounds of cultural proximities and differences.
Type of Work: The volunteers will work in different areas in Bethlehem city and surrounding areas. The work will include; participating in the Christmas celebrations, painting walls, renovation and restoration of some places, gardening and tree planting.
Study Theme: Afternoons will be dedicated to educational and cultural activities that will expose volunteers to Palestinian culture and history, and that will help volunteers to understand the reality of life under occupation. The program will include lectures, display of documentaries, visits to refugee camps in the Bethlehem area and tours of other places of interest. The program will provide many opportunities for interaction with locals. Volunteers will have the opportunity to speak with Palestinian activists and to ask whatever questions they have about the situation in Palestine.
Accommodation: The volunteers will be hosted at the IPYL volunteers flat in Hebron (20 KM south city of Bethlehem). Separate rooms for men and women. The accommodation includes hot water, kitchen and hangout space. The place has fast internet connection including computers and presentations equipment. The volunteers will cook breakfasts and dinners by themselves. Lunch will be served during the work time. Tea and coffee will be available all the time at the forum and the hangout space. There might be curfew for the work camp. The camp is alcohol and drugs free.
Language: English
Approximate Location: Hebron & Bethlehem
Notes: The volunteers will participate in a pre-departure training regarding Palestine which will be organized by their sending organization.
The participants have to pay 300 Euro to IPYL, as participation fees for the camp upon arrival. The amount can be paid in Euro, US Dollars and New Israeli Shekels according to the official exchange rate of the day.
It is important to bring:
Warm clothes; Pullover, raincoat or light jacket in case of rain (it could get very cold at December workcamp)
Working shoes, clothes and gloves.
Information about your country; musical instruments and/or anything which can create international theme parties, based on food, drinks, music, dance and games that are typical from your home country.