Working with homeless people in Hamburg St. Pauli
Topic:
5: Poverty and social injustice
Work Types:
Manual / Social
Number of places still available:
0
Free places last update:
Jul 19, 2023
International age:
18 - 99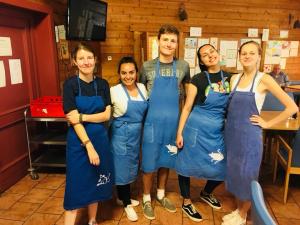 Description: The Alimaus is a Catholic facility for homeless and poor people who can get a free hot meal, clothing and sanitary and medical assistance. The donation-funded facility is used by over 200 people every day and is run with the help of many volunteers. The Salvation Army is an international free church. It runs a day centre and meeting place where guests can find a small meal, hot drinks, new clothes, sanitary help or simply a sympathetic ear for their concerns. Both projects are located in St. Pauli, one of the poorest and at the same time most popular residential areas of Hamburg, especially for artists and young people. St. Pauli is known for its colourful and international atmosphere.
Type of Work: The volunteers are integrated into the day-to-day running of the facilities at Alimaus and the Salvation Army and replace the volunteers who are on summer holidays. They help with the preparation of breakfast and lunch as well as with all other necessary tasks, such as serving meals (serving guests), distributing food, assisting in the clothing store and cleaning the facilities. They also help with the collection of food donations. Volunteers are explicitly asked to show initiative.
Study Theme: Poverty and homelessness in Hamburg; visiting other projects for homeless people.
Accommodation: The work camp group sleeps in a meeting room at the nearby Salvation Army on sleeping mats, possibly also on camp beds. There are sufficient sanitary facilities and cooking facilities. On working days, the group is provided with breakfast and lunch; in the evenings and on days off, food must be prepared by the group itself.
Language: The common language at the work camp will be English. Knowledge of Ukrainian, Russian and Polish is very welcome.
Requirements: High motivation and willingness to deal respectfully with a difficult clientele. High frustration threshold. Knowledge of German, Ukrainian, Russian and Polish is an advantage.
Approximate Location: Hamburg is the second largest city in Germany and there is a lot to discover. The large harbour, the city centre, free concerts in the city park, the Elbe beach, many museums and exhibitions. A day trip to the coastal city of Lübeck (Baltic Sea), to Bremen (near the North Sea) or to the medieval city of Lüneburg is possible. The Alimaus and the Salvation Army are located in St. Pauli, a district in the centre of Hamburg, directly on the Reeperbahn entertainment mile.
Notes: INCOMING FEE for volunteers applying via partner organisations and contacts of SCI: https://sci-d.de/incomingfee
Organization Description: This workcamp is organized by the German branch of Service Civil International (SCI). SCI Germany was founded in 1946 and is approved as a non-profit organisation. We are one of the oldest peace and volunteer organisations. SCI Germany aims to promote peace, non-violence, international solidarity, social justice, sustainable development and cross-cultural exchange through international voluntary work. We cooperate with a network of branches and partners in more than 90 countries. Every year, SCI Germany organizes about 50 international workcamps in Germany.

---
Camp Photographs