Topic:
12: Art, culture and local history
Work Types:
Manual / Restoration, renovation
Free places for Females:
4
Free places last update:
Dec 05, 2023
International age:
18 - 26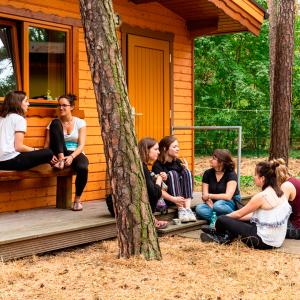 Description: Projekt- und BegegnungsstEtte of the Association of Young Volunteers (Vereinigung Junger Freiwilliger e.V. (VJF))
Type of Work: Berlin_the_place_to_beIf you have always wanted to visit Berlin, then this camp is the right calling for you. Besides the supportive work at our project center you will have plenty of time to explore this unique city.The project center is located between the banks at the lake (Langer See) and a nearby forest part. It is the perfect spot to enjoy the silence away from the city life. At the same time it is also the location of the workcamp and your accommodation for the period of the workcamp. The property includes two main buildings and six bungalows and has plenty of recreational and leisure activities to offer for our guests and seminar groups. We need your support to prepare the project center for the next season. These are simple tasks, like raking of leaves, piled and loaded onto a vehicle or maintenance/renovation work inside and outside the buildings. In simple words, the property of our project center needs to get in shape for the season and that is why we need your help.
Accommodation: Accommodation:You will live in one of the heated bungalows of the project and meeting center. There are six bungalows in total, each equipped with a bathroom, shower and toilet. Bed linen are provided so you do not need to bring any sleeping bag or linen. The main buildings can also be used for cooking, sharing meals and leisure activities during the stay.Food:Meals are prepared in alternating cooking groups in a large kitchen at the main building. Please bring some recipes or ingredients from your home region for some culinary exchange events. For the cook a grill for bbq can be provided as well.
Language: eng,
Requirements: Please be fully vaccinated (2 to 3 shots of one of the following vaccines: BioNtech/Pfizer, Moderna, AstraZeneca or Johnson Johnson) or recovered (date of infection must be min. 28 days old and max. 90 days old).
Approximate Location: Location: You are accommodated at the Projekt- und BegegnungsstEtte of the Vereinigung Junger Freiwilliger e.V. The small bungalow village is located directly at the lake Langer See in Berlin. It is a quiet place with good connections to the center of Germanys capital. Leisure time: At the center you can do sports and games (e.g. table tennis, volleyball), hiking tours and Berlin explorations.The leisure activities will be discussed and jointly determined by the participants. Smaller groups for some excursions are also possible.Please research in advance what sights in Berlin you would like to visit and contribute your ideas to the group to plan your leisure time together.
---
Camp Photographs